Nick Clegg pledges to restore civil liberties
Deputy Prime Minister Nick Clegg has pledged to restore eroded civil liberties in Britain and to reform control orders.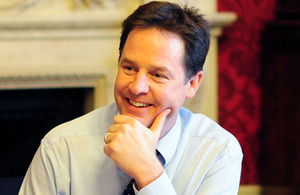 In a speech at the Institute for Government, Mr Clegg said the government's first duty remained to keep the British people safe from the very real threat from terrorists.
The Deputy PM went on to say that the government would restore the right balance of liberty and security in the measures taken to tackle terrorism.
Mr Clegg also confirmed that control orders would remain but not in their current form. 
The Deputy Prime Minister said:
This nation is built on a faith in fair play. On a historic hostility towards those who seek to impose their will on others.

Innocent until proven guilty. Equal before the law. Each individual able to think and speak without fear of persecution.

Yet recent times have seen those traditions badly damaged. 2011 will be the year we give people's freedom back.
On the subject of control orders the Deputy Prime Minister added:
The question we must ask ourselves is this - are the tools we have to combat terrorism effective and do they help rather than hinder bringing to justice those who seek to destroy our way of life?
Read the full civil liberties speech
Published 7 January 2011