News story
Nick Clegg on employment figures
The Deputy Prime Minister gave a statement on employment figures released by the Office for National Statistics on 13 August 2014.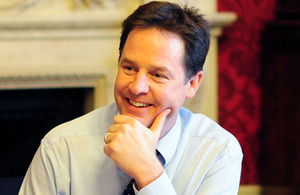 The Office for National Statistics (ONS) released employment figures today for April to June 2014. These showed that the unemployment rate has fallen to 6.4%, the lowest since late 2008, while youth unemployment fell by 206,000 over the last year.
The Deputy Prime Minister Nick Clegg, said:
The continued fall in unemployment provides yet more proof that the tough decisions we have made in government have been the right ones to build a stronger economy in a fairer society. I am particularly proud to see a fall in youth unemployment of over 100,000 in the last quarter, the biggest since comparable records began over 20 years ago.

The coalition will continue to strive to create the conditions for the economy to thrive, while ensuring everyone has a fair opportunity to take advantage of the recovery – for instance by lifting around 3 million people out of tax, narrowing the north-south divide through Growth Deals and the Regional Growth Fund, and boosting apprenticeships to help young people take advantage of the opportunities of a recovering economy.
Published 13 August 2014