News story
Nick Clegg message for World AIDS Day 2012
The Deputy Prime Minister has recorded a message to mark World AIDS Day.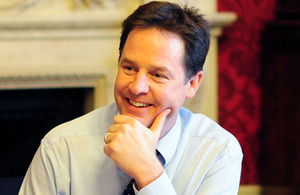 The full transcript is below:
By the end of this year around 100,000 people living in the UK will have HIV.

A quarter of these people won't even know they have it…

And, despite the huge progression in life saving drugs…

Stigma of the condition still exists.

This stigma not only harms those most vulnerable in society; it makes them afraid to open up, seek advice or talk about HIV-related risk.

Recent research by the National AIDS Trust has shown that one in five people who have disclosed they are HIV positive in the workplace, have experienced discrimination…

This is simply unacceptable in 2012…

People living with HIV have the same rights as everyone else and should be treated with the respect and dignity they deserve…

The impact of HIV touches all areas of society…

…that's why on World AIDS Day we need to show leadership: in the workplace, in our schools, colleges and universities and amongst our families and friends…

Huge strides have been made in effective treatment and early diagnoses.

If diagnosed early, many people with HIV can expect a near normal life expectancy

The NHS provides excellent treatment and care for people living with HIV…

Testing in the UK today is quick, simple, free and widely available…

A true victory for public health.

The National AIDS trust was created twenty five years ago to shape attitudes, challenge injustice and change the lives of people living with HIV for the better…

Their work has been instrumental in supporting people living with HIV, in particular in the most marginalised and vulnerable…

So whilst we can be proud of the progress we have made, we recognise there is still more we can do to make individuals, families, communities, more aware and better supported.

According to a recent UN report, we're seeing more than a 50% drop in new HIV infections across 25 low and middle income countries - more than half of those countries are in Africa, the region most affected by HIV. This is thanks to intensifying global efforts in tackling AIDS.

So today, on World AIDS Day we can look back on our achievements.

But also recognise that there is still much more progress to be made.

Let's work together in the UK and across the world to create a world that is free - finally - from HIV.
Published 30 November 2012