News story
Nick Clegg addresses Mexican Senate
Deputy Prime Minister Nick Clegg has addressed the Mexican Senate during his official two-day visit to the country.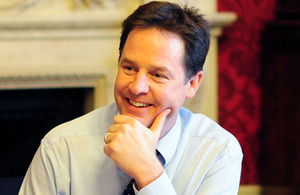 Mr Clegg is the first senior British politician ever to be afforded the honour of addressing the Senate.
The Deputy PM, who delivered his speech in Spanish, emphasised the opportunities for political and trade links between Mexico in the UK, and discuss the historic and cultural inks between the two countries.
Praising the modernisation of Mexico's economy and political system, Mr Clegg argued that politis the world over need to adapt and move with the times.
He said:
Prosperity in the modern world depends on free trade, on flexible labour markets, on skills and infrastructure. But it also depends on political stability, on legitimate institutions, and on public support.
The message from citizens the world over is this: they want political systems that move with the times.
Grievances vary from nation to nation. But the impulses are the same. Democracy and freedom are the watchwords of our age. The forces of openness and pluralism continue to gather pace.
The Deputy PM said that the UK sought a stronger partnership between the two countries as a route to "shared prosperity; and to advancing our common goals".
Published 29 March 2011