World news story
Next UK Visa Application Service on 24 April
The British Embassy's next periodic Visa Application Service will be held on 24 April 2014.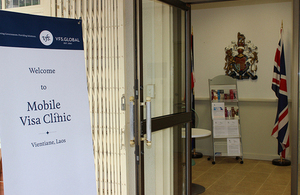 The British Embassy is pleased to announce its next mobile Visa Application Service on 24 April 2014.
This periodic UK visa application service in Vientiane means that residents of the Lao PDR no longer need to travel to Bangkok to apply for a UK visa.
Subsequent visa service dates will be held approximately every 3 months.
In order to apply for a visa, you need to complete your UK visa application form online
Then you have to pay the fee for both the visa application and for using the mobile visa clinic online, using the VFS Global payment portal
You then need to send an email to book an appointment to attend the mobile Visa Application Service
You should come to the Visa Application Servica at the scheduled time bringing your completed visa application form, all necessary supporting documents, your payment receipts for both your fee and the mobile visa clinic and anything else required for your visa application.
The fee for this service is £75 in addition to the visa application fee. This additional fee includes the cost of sending the application and documents by courier to Bangkok and back to Laos after completion.
UK Visas and Immigration aim to process non-settlement visa applications within 15 working days and settlement applications within 12 weeks.
Published 11 April 2014