World news story
Newton Fund opens new research programme in Chile
Research Councils UK (RCUK) and CONICYT invite researchers to submit proposals focused on Energy-Food-Water-Environment.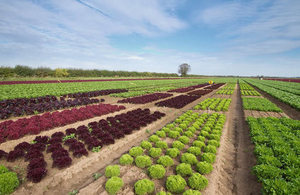 'Newton RCUK-CONICYT Broadening Impact Call 2017' is the name of the research programme led by both the Research Councils UK (RCUK) and Chile's National Commission for Scientific Research and Technology (CONICYT). The call will be open until 3 October but the intention to submit stage closes on 18 August 2017.
This initiative will provide funding for internationally competitive, transformative and high-quality collaborative research projects between researchers from the UK, Chile and other Latin American DAC list countries. Projects supported will contribute to the economic development and welfare of developing countries in Latin America.
We invite proposals which address the Energy - Food – Water – Environment. Particularly the interdependencies, tensions and trade-offs between their essential ecosystems, in the wider context of land use, environmental change, health and wellbeing, and global supply chains. Please note that the research under this call must focus on the interconnected nature of these cross-cutting areas , and not any single sector in isolation. For example, projects focussing solely on energy technologies will not be considered.
Due to Chile's graduation from the DAC list this year, and as a condition of the Newton Fund and ODA (Official Development Assistance) requirements, projects should focus on the application of Chilean and UK expertise in addressing wider global development challenges. The outputs of the research must be transferable to other DAC list countries in Latin America.
Further information
Click here for more detail about this call.
For more information about the events and activities of the British Embassy in Santiago, follow us on:
Published 31 July 2017