World news story
New visa application service launched in Bishkek
Monthly mobile biometric clinic was launched in Bishkek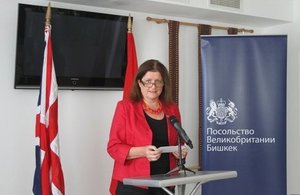 On 25 July 2013 a new monthly visa service was launched in Bishkek, which allows customers in Kyrgyzstan to supply their biometric information when applying for a UK visa without having to travel to the UK visa application centre in Almaty. The mobile biometric clinic in Bishkek is a joint initiative of the Home Office's UK Visas and Immigration Directorate and its commercial partner, VFS Global.
In her speech at the opening ceremony, HM Ambassador Judith Farnworth mentioned that Bishkek was amongst the first posts to benefit from the new user-pay Mobile Biometric Clinics in the region. The Ambassador expressed the hope that this new and convenient visa application process would lead to an increase in the number of visitors from Kyrgyzstan to the UK.
"We understand the importance of people-to-people contacts in helping our two countries get to know and understand each other better," she said in conclusion of her speech.
The launch of the Mobile Biometric Clinic was attended by Coordinator for Central Asia, Chief of Mission of the International Organization for Migration in Kazakhstan, Kyrgyzstan, Turkmenistan and Uzbekistan Mr Dejan Keserovic, and Director of the Department of Consular Service under the Kyrgyz Ministry of Foreign Affairs Ms Irina Orolbaeva. In their speeches, both Mr Keserovic and Ms Orolbaeva, welcomed the efforts of the UK Government to make it easier for citizens of Kyrgyzstan to apply for UK visas.
The Mobile Biometric Сlinic will be held in Bishkek on a monthly basis. Information on how to apply for a UK visa, including how to book an appointment to attend the MBC, can be found on the VFS Global and British Embassy Bishkek websites. Information on timings of the clinic will also be shared via the Embassy's official Twitter (@ukinkyrgyzstan; @HMAFarnworth) and Facebook (UK in Kyrgyzstan) accounts.
Published 26 July 2013