New video shows Dart Charge progress
Striking time lapse video has been released showing the successful completion of the first phase of Dart Charge construction work at the Dartford Crossing.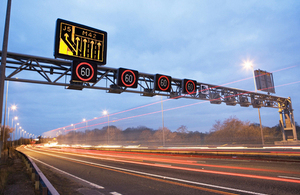 The video shows the installation of five new gantries that have been installed in recent weeks at the entrance to the Dartford tunnels and on the Queen Elizabeth II bridge.
Dart Charge, a new payment arrangement being introduced from October 2014, will improve journeys and reduce congestion at the Crossing, removing the need to stop at payment booths and giving drivers more flexibility about how and when they pay the charge. There will be lots of ways to pay – a simple pre-pay account, where drivers can save up to a third on each crossing, and also online, by phone and at selected retail outlets.
Highways Agency Project Manager Nigel Gray said:
Completing this first phase of construction successfully is a big milestone in our work to improve the Dartford Crossing for the 170,000 drivers that use it every day. We've worked hard to install these five gantries in a way that keeps traffic disruption to an absolute minimum, and we'll continue this focus as we move on to the next phase of work.
Erwan Huerre, Transition Manager at Connect Plus said:
The delivery of the charging gantries is an important milestone in the introduction of Dart Charge as it enables the installation of the new charging technology. To achieve this great success, Connect Plus has overcome a number of challenges including the non conventional design of the gantries on the approach to the tunnels and the complex coordination of works required to make it a painless experience to the road user. This was made possible through the continuous engagement between our Dartford based operational team, our designer Atkins, our contractor Osborne, our customer the Highways Agency and the new charging and enforcement operator sanef.
The gantries will house the technology that will drive Dart Charge. One gantry will carry signage, and the other four will hold cutting edge equipment to detect and identify the vehicles passing under them. Work on installing this equipment will now begin, and will be carried out using restrictions in one of the tunnels or on the QEII bridge. When the QEII bridge is closed, the east bore will be used for southbound traffic.
Once installed, the new cameras will begin their testing phase before going live later this year.
More information about Dart Charge can be found by visiting the [Dartford web page] on GOV.UK(http://www.gov.uk/highways/dartford).
The video footage is available on YouTube - Booth removal at Dartford - time-lapse.
Booth removal at Dartford - time-lapse.
General enquiries
Members of the public should contact the Highways Agency Information Line on 0300 123 5000
Media enquiries
Journalists should contact the Highways Agency press office on 0844 693 1448 and use the menu to speak to the most appropriate press officer.
Published 19 June 2014