World news story
New User Pays Fee for UK Visa Application Centre in Taipei from March 12
From March 12, UK visa customers in Taiwan will be required to pay a fee to use the Visa Application Centre in Taipei.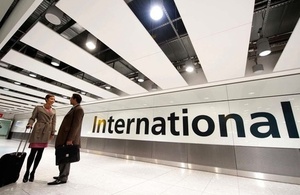 The move follows a global review and restructure of UK Visas and Immigration services to increase the number of visa application points and improve services globally, through commercial partner contracts.
Under the new arrangements the fee enables customers in Taiwan to continue to have access to a local service which would otherwise be cost prohibitive to provide. This is in line with our new global model of charging in low volume locations around the world to ensure customers have the option of a convenient service.
The fee to use the visa application centre will be £59 ($US100). This will be in addition to the visa fee and will be charged at the point of booking the appointment and will cover the cost of providing the application submission facilities in Taiwan. Appointments at this Visa Application Centre will not be honoured if this fee is not paid.
The visa application centre, which VFS Global will continue to operate, will also be upgraded to streamline processes and provide a better experience for customers.
We will work closely with VFS Global to ensure continuity of service during the transition period. There will be no other significant changes to the UK visa application process for customers in Taiwan and visa applications will continue to be sent to our visa hub in Manila for assessment by UKVI staff. There will also be no change to processing times.
We will continue to operate our successful 3-5 day priority visa service for non-settlement applicants and 10 day priority service for settlement applicants.
Further information on changes to our global visa service is on the UK Visas and Immigration website and information on the new visa application centre and added value services will be published on the VFS Global Taiwan website from March 12.
Notes to Editors
Most Taiwanese going to the UK for short visits, such as tourism and business visits, do not require a visa prior to travelling to the UK.

The change is part of a global shift to new commercial partner contracts to deliver a more streamlined application process to more customers in more locations around the world. The new contracts will offer increased value for money, the necessary flexibility to support current and future services and provide a first class customer experience.
Published 19 February 2014