World news story
New trade and investment announcements highlight strength of UK-Taiwan bilateral relations
UK Minister made a number of new trade and investment announcements highlighting strength of UK-Taiwan bilateral relations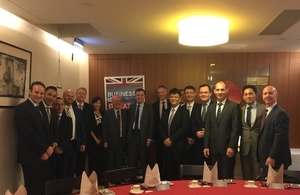 The UK Minister of State for the Department for International Trade, Greg Hands MP, has made a number of announcements demonstrating the strength of UK-Taiwan bilateral trading relations.
As part of a two day visit to Taiwan, the Minister announced that Taiwanese frozen food company, Han Dian Foods and their UK partner, Taipec Ltd, will invest £10 Million over three years to establish a new European headquarters in London to manufacture and sell Han Dian's frozen food products in Europe. It is estimated that around 100 new jobs will be created due to this investment project.
At the meeting with Hsieh Su-Chien, President of China Airlines Co., Ltd. this morning, China Airlines announced that they are now taking delivery of 14 Airbus A350s, all equipped with British Rolls Royce engines. China Airlines is also planning to inaugurate the re-launch of the Taipei-London Heathrow route with these brand new A350-900 aircrafts in 2017.
Speaking to an audience of more than 100 students from the business school of ChengChi University yesterday, the Minister said:
"Britain is building a new future from a position of strength, and will continue to be outward facing and internationally focused. These partnerships are a vote of confidence in the UK as a place to do business. We're ready to embrace all the new opportunities and strengthen our links with markets around the world, including Taiwan."
In advance of today's UK-Taiwan trade dialogue, Minister Hands welcomed the recognition of Scotch Whisky as a certification trade mark in Taiwan in both English and Mandarin (蘇格蘭威士忌) and also the recent announcements by Taiwan to grant the UK disease free status from Highly Pathogenic Influenza, enabling the UK can begin to export live poultry to Taiwan once again. At the trade dialogue the Minister will raise outstanding market access issues impacting on UK exports of financial services, pharmaceutical products, Scotch Whisky and seek new access for UK pork exports.
Published 27 September 2016