News story
New study examines homelessness among London's Veterans
Kent University to assess the capital's local authority provision for homeless ex-service personnel.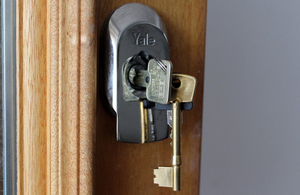 Kent University and London Veterans Advisory and Pensions Committee (VAPC) have combined to initiate a new study of homelessness among Veterans which is due to issue a first stage report at the end of August.
The VAPC have commissioned Professor Helen Carr and Dr Ed Kirton-Darling of Kent Law School, University of Kent, to undertake research into provision for homeless Veterans across London. The work will build on existing research, in particular a University of York report, which highlighted the need for more evidence about the problem of homelessness among the Veterans' community.
Professor Carr said the new study would attempt to address some of the gaps identified in the York report and to produce a clear set of achievable guidelines with which to improve the circumstances of homeless Veterans in London.
The research focuses on the following questions:
1) to what extent is the local connection rule used by local authorities in London in relation to Veterans?
2) how is vulnerability as a result of being in the services assessed by local authorities in London? As part of this, what evidence do local authorities seek in respect of individuals claiming Veteran status, and how are they assessed?
3) what dedicated services are available for Veterans in London, including accommodation, and how do those services relate to local authority provision?
The research will proceed in 2 stages, with an initial report expected to be published in the summer of 2016.
Professor Carr said:
We are very excited to be able to undertake this research for the VAPC and are keen to find examples of best practice in this area. We are also looking forward to exploring the impact of the recent Supreme Court decision on the meaning of vulnerability as part of this research.
She added that one of the gaps identified by the York report was a lack of evidence on the ways in which local authorities' discharge their obligations to homeless Veterans. For example, while rules could be varied in favour of homeless Veterans, crucially there was little evidence of how these rules were applied.
Lynn Verity, chairman of London VAPC, said:
We are delighted to be working with the Kent University Project Team. The information will be very valuable and may well allow us to raise issues of accommodation for ex-servicemen and women directly with the relevant local authority.
Published 18 April 2016