News story
New research facility takes shape
An advanced nuclear materials research facility is being built at Culham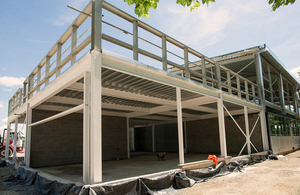 Construction of the new Material Research Facility (MRF) is progressing to schedule and is due to be completed this autumn, in time for opening in December 2015. MRF is part of the UK Government's multi-site National Nuclear User Facility initiative and will house equipment for the processing and analysis of irradiated and activated materials.
Over 60 participants from industry, universities and other organisations recently attended a one-day workshop on the MRF's research capability. All those attending the event are active in the field of nuclear research; the majority in nuclear fission. The programme included an overview of the new facility by Head of Theory & Modelling, Martin O'Brien and presentations by UKAEA staff on key areas including scientific equipment, sample preparation and tritium capability.There was also a very useful forum discussion on the future expansion of the MRF led by Jon Hyde from the National Nuclear Laboratory.
Tours of the construction site were given by Project Manager James Treadgold and the visitors also saw some of the equipment already operating in a laboratory at Culham.
Professor Chris Grovenor of the University of Oxford, who chairs the National Nuclear User Facility, said
It was an excellent opportunity to see the progress being made with establishing a new active facility, and to experience the strong commitment of Culham staff to designing and constructing the MRF.
Published 28 July 2015