News story
New recruits attend CNC pre-employment assessment events
Over 40 people attended pre-employment assessment events held by the Civil Nuclear Constabulary last month.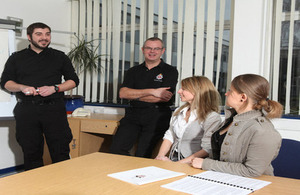 Four pre-employment assessment events held at the Civil Nuclear Constabulary (CNC) firearms range at Bisley last month proved popular with new applicants hoping to join the force.
The events, held Monday 10 November to Thursday 13 November and the first of their kind since 2004, invited applicants to have a CNC briefing, fitness test, firearms assessment, medical, and interview all at one location on the same day.
In total, 44 candidates were assessed and interviewed over the four days. Work is now underway to collate the results and make formal offers to the successful candidates.
The feedback from applicants was very positive, especially those being recruited to Scottish sites which meant all their assessments were done in one day and multiple trips were avoided.
Sgt Joanne Peake, from the firearms training unit, said: "These events were part of a pilot to see if it was feasible to carry out all the different assessments and interviews required to join the CNC in one day and we had some good feedback from candidates who attended.
Nicola Loughlin, HR Recruitment Manager, added: "The recruitment days proved a huge success and gave candidates a real feel for CNC as an employer. I look forward to welcoming the successful applicants to the force."
The image used is from a previous training session.
Published 1 December 2014