New powers put Londoners in the driving seat
Londoners are set to benefit from an unprecedented devolution of power from Whitehall, Communities and Local Secretary Eric Pickles announced…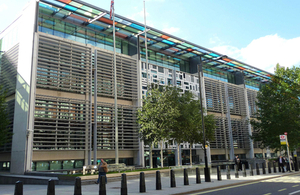 Londoners are set to benefit from an unprecedented devolution of power from Whitehall, Communities and Local Secretary Eric Pickles announced today.
Radical new plans will see the Mayor of London and Borough councils and neighbourhoods handed greater decision making powers over the city's housing, regeneration, economic development, and Olympic legacy as part of the Localism Bill to be published shortly.
These reforms pave the way for further devolution down to the London Boroughs to make sure decisions reflect local priorities including more decisions on planning being put into to the hands of locally-elected London leaders.
Ministers believe that, as things stand, too many major planning applications are decided by the Mayor and there are various unelected bodies taking decisions over London leading to confusion and duplication between City Hall, Government Office for London, the Homes and Communities Agency, London Development Agency and the Olympic Park Legacy Company.
The London Assembly will also gain new scrutiny powers to hold the Mayor to account on behalf of Londoners.
Mr Pickles believes the changes will also restore the democratic deficit in the capital and make it more accountable by putting London's future firmly in the hands of Londoners and their leaders.
The Government has already acted to protect local services by freeing all councils from the straight jacket of ring-fenced funding, regional governance, central targets and inspection as well as wider planning reforms and new incentives for housing and local growth.
Eric Pickles said:
London is a global powerhouse, with global reach - and yet it can't make local decisions on local issues.

Today I'm announcing that we will streamline the way London is run so Londoners a stronger voice with decisions taken by Mayor, Borough leaders and neighbourhoods based on local priorities in the capital.

London is a democracy not a quangocracy and the Mayor has a clear electoral mandate from London voters so he should be at the head of the table.

Instead of quango-itis stifling the pace of London's progress its elected leaders will decide what housing and regeneration investment to make or what London's Olympic legacy should be, all in a more open and transparent way than ever before.
The full range of powers to strengthen London's governance includes:
The devolution of executive powers over housing investment from the Homes and Communities Agency to the Greater London Authority (GLA) so it can be fully aligned with the Mayor's own funding pot and the London Housing Strategy;

The abolition of the London Development Agency, with its city-wide roles on regeneration and management of European funding to be transferred to the GLA so that the Mayor is directly accountable. The Government has already announced the end of the Government Office including London (GOL) and the Regional Development Agencies;

New powers for the Mayor of London to create Mayoral Development Corporations to focus regeneration where it's needed most, such as to help secure East London's Olympic legacy, in partnership with London Boroughs;

Boroughs will be given control over more of the major local planning decisions that affect their local communities. The Mayor will only consider the largest planning applications in future;

Streamlining consultation on Mayoral strategies, so there is a single environmental strategy. The Assembly will also gain a new  power to reject the Mayor's final strategies by a two-thirds majority.
Notes to editors
Measures relating to governance arrangements for the Metropolitan Police are being considered as part of wider Home office reforms and measures relating to the management of the Royal Parks are being considered separately.
Twitter
Keep up to date with the Department by following us on Twitter (external link).
Media enquiries
Visit our newsroom contacts page for media enquiry contact details.
Published 1 December 2010