News story
New partner for Harwell-Oxford
New private sector partner for the joint venture to develop the Harwell-Oxford campus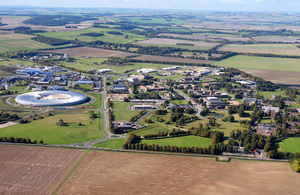 The UK Atomic Energy Authority and Science & Technology Facilities Council (STFC), the public sector partners in the joint venture developing the Harwell Oxford campus, are now pleased to announce that they have been joined by a new private sector partner comprising leading UK real estate developer and investor Development Securities Plc and Harwell Oxford Partners, founded by Prorsus. The new partner has taken over the 50% share of the joint venture partnership previously held by international property group Goodman.
Harwell Oxford is a science campus of international significance, established for over 50 years as a commercial science and research cluster and covering work in the fields of life sciences, aerospace and space, computing and data, telecommunications, physical sciences, plasma physics and micro-electronics. The campus, which has been granted Enterprise Zone status, benefits from over £1 billion of world-leading scientific infrastructure which has helped to establish Harwell Oxford as a globally significant destination for UK and international organisations including the European Space Agency and Element 6. The campus is home to STFC's Rutherford Appleton Laboratory, the Diamond Light Source, key Medical Research Council facilities and the Thames Valley centre of Public Health England.
The joint venture partners are currently preparing a master plan for the first major new phase of development comprising around 1 million sq. ft. of commercial and R&D space with a wider sustainable, mixed-use community.
Published 10 April 2014