News story
New Parole Board Members & Vice Chair appointed
Over 100 new members will be joining the Parole Board.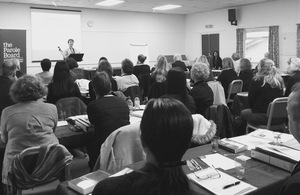 We are delighted to announce that up to 104 new members will be appointed by the Lord Chancellor across independent, retired judicial, psychologist and psychiatrist membership categories. The new members will join the Board in two cohorts; the first in November 2016 and the second in June 2017. The addition of these new members is part of the Parole Board's strategy to meet its priorities, including reducing the backlog of cases waiting for an oral hearing. There was an enormous level of interest in the posts with a very high standard of candidates. Thank you to everyone who applied and congratulations to those who will be joining the Board over the coming 8 months.
It was also announced that following a public appointments exercise the Honourable Sir John Saunders joins the Parole Board as the new judicial Vice-Chair, with effect from the 24 November. Sir John is a highly experienced High Court Judge with experience as the presiding judge of the South Eastern Circuit.
Nick Hardwick, Parole Board Chairman said:
"I am delighted to be in a position to welcome The Hon Sir John Saunders as Vice Chair and up to 104 new members to the Parole Board, our largest ever, recruitment campaign. Sir John and our new members bring a wealth of experience and expertise to the crucial work of the Parole Board. Over the coming months these new members, alongside our existing members, offer us the opportunity to continue to improve the parole system and ensure that those entitled to a parole review have their cases considered in a fair and timely manner."
Sir John said:
"I am very pleased to be joining the Parole Board to assist with the difficult and important work that the Board does. I hope that my experience as a criminal Judge will prove to be useful."
Published 18 November 2016