New national 'address book' to be free to emergency services
A single 'address book' for England and Wales is to be created and made free to the emergency services for the first time, Communities Secretary…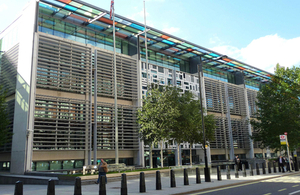 A single 'address book' for England and Wales is to be created and made free to the emergency services for the first time, Communities Secretary Eric Pickles announced today.
For years business and essential services have had to pay for the two different national address lists maintained by councils and Ordnance Survey creating a costly and inefficient system.
An agreement has been reached to set up a joint venture between Ordnance Survey and the Local Government Group to create a new single source of address data.
The new National Address Gazetteer will be free to all public services including the emergency services that rely on it to get to people in distress quickly. Essential services currently need both sets of address lists to ensure they have a comprehensive list of addresses available. It is also vital for managing benefits, arranging school buses, refuse collection routes and registering to vote.
Businesses will benefit from now only having to get one license for the addresses instead of two. This information is vital for many private sector businesses, such as utility companies or insurance firms who use address data to respond to incidents and help them fix problems quicker.
Eric Pickles, Secretary of State for Communities and Local Government said:
It's crazy we don't have one single address list in this country. It makes no sense that both the public sector and businesses have to bear the unnecessary expense of licensing two sets of data, especially in these straiten times.

In particular, it is vital that the emergency services can get to people as quickly as possible. Having only one 'address book' will make that job easier, deliver vital savings that can be put towards frontline services and bring real benefits for business.
Having just one database will cut out the time and money needed to produce and maintain two separate registers and bring savings that can be used for frontline services. This will provide:
greater efficiency by removing duplication and inefficient processes, such as the time needed to match addresses and work between two different databases

better delivery by being a simpler, easier product for both the public sector and businesses

greater transparency and make all addressing information free at the point of use for the entire public sector including those organisations working on behalf of the public sector.
Baroness Margaret Eaton, chairman of the Local Government Association, said:
We are delighted to be working with Ordnance Survey to bring together, for the first time, this important information. This landmark agreement will allow councils and other public sector organisations to build a better, more accurate picture of where people live to help them deliver the services people need in a way that they want.
Sir Rob Margetts CBE, Ordnance Survey non-executive chair, commented:
I am enthusiastic about the creation of a single national address gazetteer and very confident that it will bring new benefits to all users of address information. Much hard work has gone into creating this joint venture which will supply a definitive source of accurate spatial address data to both the private and public sectors. I would like to thank everyone involved for getting the project this stage.

Over the last nine months Ordnance Survey has achieved some major milestones with the launch of OS OpenData in April, the Public Sector Mapping Agreement in August and now the announcement of a single national address gazetteer database. The demand for accurate, accessible, high quality geographic information has never been so high and the products which will be created from the new national address gazetteer database will be another step in meeting the needs of all of our customers.
Notes to editors
Local Government Group and Ordnance Survey are working together to create a single national address gazetteer database to combine the best of local government's address data (the National Land and Property Gazetteer) with Ordnance Survey's flagship address product (OS MasterMap Address Layer 2).
2. Access to addresses in the Gazetteer will be free at the point of use for the entire public sector including organisations delivering services on behalf of the public sector, as part of the Public Sector Mapping Agreement.
3. The joint venture will be responsible for the production and maintenance of the National Address Gazetteer database.
4. It is anticipated the database will be developed by April 2011. This will allow the market to review the database before it is released.
5. The proposal for the National Address Gazetteer will be referred to the Office of Fair Trading for third parties to comment.
6. Local Government in Scotland and the Scottish Government are supportive of creating a national address gazetteer and are working with Local Government and Ordnance Survey on ways to achieve this.
7. ONS are working with the Local Government Group and Ordnance Survey to share their knowledge gained from preparing the 2011 Census.
8. The national address gazetteer is welcomed by Royal Mail. Their 28 million addresses and 1.8 million postcodes in the Postcode Address File (PAF) will form a key component of the national address gazetteer database.
Twitter
Keep up to date with the Department by following us on Twitter (external link).
Media enquiries
Visit our newsroom contacts page for media enquiry contact details.
Published 3 December 2010