World news story
New Lao Ambassador to the UK meets British business representatives
This was published under the 2010 to 2015 Conservative and Liberal Democrat coalition government
H.E. Mr. Sayakane Sisouvong, Lao Ambassador-designate to the United Kingdom, met British businessmen in Vientiane today.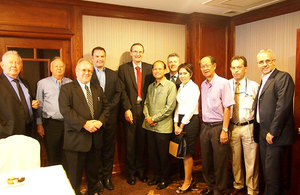 Mr. Sayakane, who was officially appointed by President Choummaly Saysone as Lao Ambassador to the United Kingdom last Friday, will depart for London in early June to prepare the reopening of the Embassy of the Lao PDR after a diplomatic absence of almost 30 years. In preparation for his assignment and to support Mr. Sayakane in building relations with British interests in Laos, Ambassador Philip Malone organised a meeting with British Business Group representatives. During a business lunch, Mr. Sayakane met executive members of RMA Lao, which represents British brands Jaguar Land Rover and JCB, Standard Chartered, Prudential, Unilever and others, as well as senior figures from the European Chamber of Commerce in Laos. Companies from the UK assist Laos in its economic development and deliver expertise across a range of sectors, in particular financial services, retail and education. UK exports to Laos, primarily pharmaceuticals, road vehicles and textiles, increased by 31% to £4.5m in 2013. UK imports from Laos are primarily in the garment sector and increased by 7% to £43m last year.
The British Embassy Vientiane opened for business in late 2012 and has since been working to strengthen bilateral ties between Laos and the UK. The re-opening of the Lao Embassy in London after a 30 year absence is a significant next step in reinvigorating bilateral links.
The British Embassy Vientiane will be working closely with the Foreign and Commonwealth Office's ASEAN Department in London to support Ambassador Sayakane and his staff in the process of setting up their networks in London.