Press release
New lane to cut congestion on A38 near Exeter
Work on a £9.3 million scheme to provide an extra lane to ease congestion at one of Devon's busiest junctions will start in October.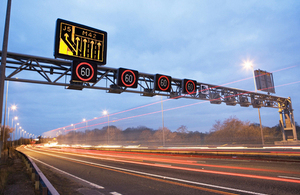 The work, at Splatford, near Exeter, is part of the Government's Pinch Point Programme and will extend the existing two lanes of the A380 to the junction with the A38 and continue to the Wobbly Wheel junction. It is due to be completed in March 2015. Initial work, between 6 October to the end of the month, will involve the installation of CCTV cameras and crossing points for contraflow traffic, which will take place overnight.
During the majority of the work, five traffic lanes will be maintained with two lanes in each direction and the centre lane used to cater for peak commuter flows (eastbound in the mornings and westbound in the evenings). A temporary 50mph speed limit will be enforced from 6 October with average speed cameras for the safety of road users and the workforce.
The increase in capacity on the road will improve the flow of traffic through the area which suffers severe congestion and delays. It will also cater for traffic following the opening of the Kingskerswell bypass due at the end of 2015.
Highways Agency project sponsor, David Stock, said:
This major investment in the A38 will reduce congestion and help economic development in the wider Exeter area.
Drivers will benefit from reduced journey times through reduced congestion at peak times
General enquiries
Members of the public should contact the Highways Agency Information Line on 0300 123 5000.
Media enquiries
Journalists should contact the Highways Agency press office on 0844 693 1448 and use the menu to speak to the most appropriate press officer.
Published 3 October 2014