World news story
New Governor arrives in the Falkland Islands
Colin Roberts CVO sworn in as new Governor of the Falkland Islands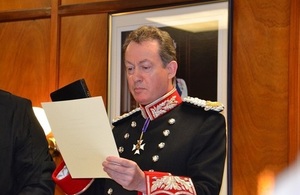 Blustery conditions failed to deter a large crowd from turning out to welcome the new Governor of the Falkland Islands Colin Roberts CVO.
Community groups were well represented at the April 29 parade on Victory Green in the Falklands' capital, Stanley, during which a seventeen gun salute was fired by members of the Falkland Islands Defence Force.
The parade followed a swearing in ceremony in the chamber of the Falkland Islands Legislative Assembly, during which Mr Roberts swore The Oath of Allegiance and The Oath for the Due Execution of the office of Governor under the watchful eye of Attorney General Peter Judge MBE.
After receiving the ceremonial sword from the Speaker of the Falkland Islands Legislative Assembly, Mr Roberts addressed the chamber saying it was a "great honour and pleasure" to be sworn in as Governor.
He continued: "The people of these Islands are taking their place in the global community in their own right - in your own right - quite distinct from the United Kingdom and this is a great achievement for a small community.
"There have been and there will be a lot of very difficult decisions to take about the future and we all know there are some who do not want you to succeed but this has only strengthened your resolve and I can assure you it has strengthened the resolve of the government of the United Kingdom."
Mr Roberts succeeds Nigel Haywood CVO, who left the Islands in February.
Published 29 April 2014