Press release
New Director General for Consumers and Households appointed
Clive Maxwell, Chief Executive of the Office of Fair Trading, has been appointed Director General of DECC's Consumers and Households Group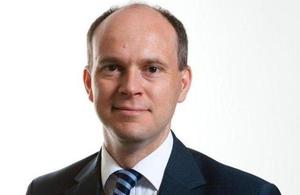 Clive Maxwell, Chief Executive of the Office of Fair Trading, is to join the Department of Energy and Climate Change (DECC) to lead the department's drive on improving consumer service and choice.
Mr. Maxwell has been appointed Director General of DECC's Consumers and Households Group, which is responsible for the Government's key projects in improving energy efficiency and helping business and domestic energy users obtain the lowest possible bills.
The appointment comes as DECC engages in a major programme of improvements for consumers under energy efficiency schemes such as the Energy Company Obligation and Green Deal, as well as working closely with the energy industry to maximise choice for customers.
Stephen Lovegrove, Permanent Secretary at DECC, said:
I am very pleased that Clive is joining us at such an important time at DECC, when we will be focusing constantly on bringing improvements for consumers. Clive's wide experience in competition and consumer matters will be an incredibly valuable addition as we drive even greater competition in the energy industry to ensure consumers receive the best value in their services.
Mr Maxwell, who will take up his role on 24 February, has been Chief Executive at the OFT since July 2012, after being on the board of the OFT as an Executive Director and previously worked as OFT Senior Director, Services Sector.
Mr. Maxwell said:
I'm really excited about my new role at DECC, working on what I think are some of the biggest issues facing the country. Tackling big issues where I can make a difference is why I joined the Civil Service, one of the many reasons why I've enjoyed working at the OFT, and why I've chosen to stay working in Government.
Prior to joining the OFT, Clive worked in a wide range of roles for HM Treasury from 1992-2009. He led work responding to the financial crisis in 2007-2009, and worked on financial markets and regulation there from 2002.
Clive has represented the UK in numerous international and EU fora, including the European Competition Network and the EU's Financial Services Committee, of which he was Vice-Chairman from 2008-2009.
He worked in Brussels on secondment to the European Commission in 1994-1995, dealing with economic and monetary issues, and on secondment in local government in 1999-2000.
Published 10 January 2014