New 'Community Shares' to boost local services
Communities Minister Don Foster today launched a new Community Shares Unit to help local people claim a stake and become part owners of much…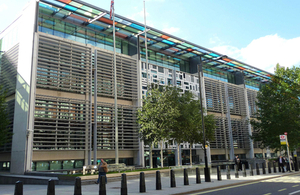 Communities Minister Don Foster today launched a new Community Shares Unit to help local people claim a stake and become part owners of much loved local assets and services such as their community pub, football club or even in the generation of renewable energy.
Community shares let local people to take a more active in role in their communities by giving members - as part-owners - a direct say in their success, encouraging them to play an active part in their future. Most investors buy shares to help achieve a social good, however if the enterprise is successful they may also benefit from dividend payments.
Dividends can be paid in money, but also in kind, with cheaper energy, cut-price pints, and local, fairly-priced food as possible incentives.
Backed by the Department for Communities and Local Government and run by Co-operatives UK and Locality - the country's largest network of community led organisations - the new Community Shares Unit will enable more local enterprises to use share offers as a way of raising finance - in particular risk capital - to purchase buildings or get new projects up and running.
Speaking at the Community Development Finance Association annual conference, Don Foster said:
We are shifting control away from Whitehall, handing communities the powers they need to run their own affairs.

Across the country, communities are showing they have the ambition and determination to secure ownership of important local assets and get new projects off the ground.

We want to create the conditions in which social investment and community finance can flourish to make this happen. This new unit will give them the helping hand they need to take full advantage of the opportunity to do things their way, in the best interests of their area.
The new unit aims to grow the community shares market with the ambition of launching over 200 share issues over the next three years. It will also offer guidance and advice to investors seeking to understand more about the market, and support community enterprises, with services such as checking offer documents.
Ed Mayo, Secretary General of Co-operatives UK, said:
We're seeing more and more communities taking things into their own hands. They are investing co-operatively in local enterprises themselves, whether that's football or farming, retail or renewables.
Hugh Rolo, Director of Innovation at Locality, added:
We are delighted that the Department for Communities and Local Government is supporting one of the fastest growing areas of social investment. Community shares generate the right kind of finance and act as a powerful lever to access other funding, allowing communities to develop fully sustainable enterprises.
Notes to Editors
Since 2009, 15,000 people have invested in over 100 community share issues, raising over £15million. To find out more on community shares and the new Unit visit www.communityshares.org.uk (external link).

Over the last three years Co-operatives UK and Locality have undertaken a Government-funded research project examining the potential of community shares and bonds as a way to increase community empowerment and grow social enterprises and attract investment from non-government sources. It investigated how members of the public can invest in enterprises that serve a community purpose. Ten projects tested the idea, looking at barriers that could restrict their growth and how they can be overcome. These include community retail stores, renewable energy and a football club. The outcome of the action research project confirmed that community shares not only help communities access funding directly but are also a good lever for accessing complementary grant and loan funding. They provide a viable option to the undercapitalisation of the community sector. The Department are funding Co-operatives UK in association with Locality, over three years, to establish the Community Shares Unit. To find out more about locality please visit www.locality.org.uk (external link). To find out more about Co-operatives UK please visit www.uk.coop (external link).

Community share offers are proving a lifeline for communities across the country. For example, Community enterprise organisation Bath and West Community Energy have, since 2010, raised funding to bring alternative sources of energy to their community, including the installation of solar, photovoltaic, hydro and wind technologies. With nearly 200 members, Bath and West Community Energy have raised £722,000 through a community share offer, exceeding their share target. This in turn has helped them to secure £1million loan finance to fund 12 of their projects.

The Localism Act which was enacted on 15 November 2011 and is opening up opportunities for community groups, including social ventures, to bid to run local services and assets. A plain English guide to the Localism Act is available at: www.communities.gov.uk/publications/localgovernment/localismplainenglishupdate.

Last month The Community Right to Bid came into force so communities can 'stop-the clock' on the sale of valuable local assets and amenities such as post offices, village shops or community pubs, giving them time to put in a takeover bid of their own and protect it for the wider community's benefit.

A Community Rights website has been launched to give people more information about the new powers and opportunities available to them. The website will continue to grow and expand as more of the Rights come into force. The site can be viewed here: www.communityrights.communities.gov.uk (external link).

Practical help and guidance for those wishing to use the Community Right to Challenge is also available on the My Community Rights website. The site can be viewed here: www.mycommunityrights.org.uk/community-right-to-challenge (external link).
Published 5 October 2012