Press release
New chair of the Nuclear Liabilities Fund
Appointment of new chair of the Nuclear Liabilities Fund.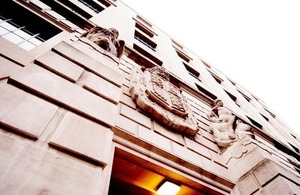 Jean Venables CBE, former president of the Institution of Civil Engineers and Chief Executive of the Association of Drainage Authorities, has been appointed the new chair of the Nuclear Liabilities Fund (NLF) from 1 July. She succeeds Lady Balfour of Burleigh who has served seventeen years as a trustee and twelve years as the chair.
Energy and Climate Change Minister Baroness Verma said: "Jean will bring a wealth of experience from her civil engineering career to the role of chair of the Nuclear Liabilities Fund. Her strategic involvement in long term infrastructure projects and her leadership capability will be invaluable to the board of the NLF. We look forward to working with her in the future.
I would like to thank Lady Balfour for her service to the fund. Lady Balfour has led the NLF through a period of considerable change, and her depth of knowledge, judgement and influence have been vital to the successful stewardship of the fund."
Notes to editors
The Nuclear Liabilities Fund (NLF) holds investments with a current market value of c. £8.8bn, and is responsible for managing those assets to fund certain decommissioning, waste and spent fuel management costs at the former British Energy (BE) nuclear plants, now owned and operated by EDF Energy (EDF E). The Fund is independent but works collaboratively with Government, EDF E and the Nuclear Decommissioning Authority (NDA) to fund decommissioning activity, and for releasing funds to meet necessary expenditure.

Some of the Fund's liabilities are very long term, some 100 years or more away under current decommissioning plans. However, there is an increasing amount of early planning, spending and other related activity already underway.

DECC underwrites the NLF and would fund the liabilities to the extent that they exceed the assets of the Fund. The DECC Secretary of State is responsible for appointing three of the five Trustees of the NLF, including the Chair, and EDFE is responsible for appointing the other two.

Additional information on the NLF can be found on the Nuclear Liabilities Fund website.

DECC and the NLF are committed to the principles of diversity and equal opportunities, and selection is on merit. The Secretary of State's appointments to the Board are regulated by the Office of the Commissioner for Public Appointments (OCPA) Code of Practice.
Published 23 June 2014