World news story
Networking event in Greece promotes importance of UK maritime services
Galbraith's, a major UK shipbroking firm, held their annual networking event for clients and partners in Greece at the British Residence in Athens.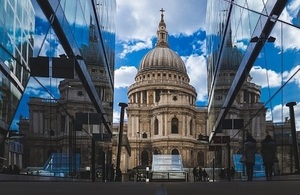 The event on Wednesday 21 October 2015 was attended by over 130 clients, owners, senior shipping executives and brokers as well as directors and some senior staff members from Galbraith's.
Shipbroking in the UK
UK based shipbrokers continue to dominate the international shipping sector.
Ship broking is a crucial part of the UK maritime services cluster and renowned worldwide for its depth of expert knowledge and experience. The 200 ship broking firms operating in the UK:
generate about a third of activity in UK maritime services
employing around 5,000 people
and generating net exports of 840m
An estimated 30 to 40% of dry bulk and 50% of tanker fixtures are transacted by UK based ship broking firms. Ranging in size from niche sole traders to large publicly listed companies, independent shipbroking companies provide services to the dry bulk, tanker, container, gas and offshore sectors.
Networking event
The event was opened by HMA John Kittmer who welcomed guests and outlined the UK's depth of expert knowledge and experience in the sector.
There was also a brief welcome by Bjorn Andersen, CEO, Galbraith's and a presentation by Taimur Hassan, Principal and Chief Investment Officer of Frere Hall Capital Management, on recent developments and trends in the Oil Market.
Contacts
Contact UKTI Greece for advice and support if you are looking to expand your business in Greece.
Published 19 November 2015