World news story
NERC-ESSO MoES announce UK-India call for outline proposals
The Natural Environment Research Council (NERC), UK and the Earth System Science Organization (ESSO) of the Ministry of Earth Sciences (MoES), India, jointly invite outline bid proposals for research on Drivers of Variability in the South Asian Monsoon.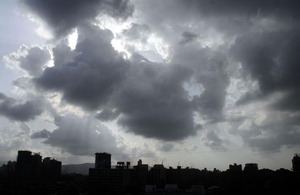 This call follows a successful UK-India scoping workshop organised in February 2013.
Proposals are sought for collaborations between UK and Indian researchers.
The focus of this call has been agreed as:
process-based observational work, including a time-limited observational campaign using the FAAM aircraft1

design and trialling of new long-term observations with the potential to improve predictability of the south Asian monsoon

bringing together existing historical observations from disparate sources

and using those observations to develop a more integrated understanding of the driving processes, through a hierarchy of modelling approaches, including data assimilation to help progress towards improving monsoon predictability
For the purpose of this call South Asia is defined as India, Pakistan, Nepal, Bangladesh and Bhutan.
Up to £3m is available from NERC for this call to fund eligible costs requested by successful grant applications by UK teams. Comparable funding is available from the MoES to fund eligible costs requested in successful grant applications by Indian teams.
The application process for funding of grants will involve two distinct stages. This call invites outline proposals. Further information about eligibility, application and other details.
This collaboration adds to the already growing UK-India research portfolio which has grown from less than £1m in 2008, to over £100m today.
Published 21 May 2013