Press release
Nature reserve angler fined
An angler, caught in the act of fishing illegally at a Cambridgeshire nature reserve, has been fined.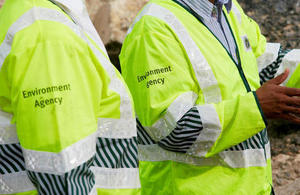 The angler from Cornwall was thwarted by the combined investigations of the Environment Agency and Cambridgeshire Police.
Bait containers, bonfires and evidence of fishing had previously been spotted by wardens of Bedfordshire, Cambridgeshire and Northamptonshire Wildlife Trust at Godmanchester Nature Reserve, an area of outstanding natural beauty.
Environment Agency Fisheries Enforcement Officers later discovered angler Philip Rule, aged 50, asleep under a shelter carved deep into a hedgerow near the water's edge. He had two baited rods cast into the water, set up with bite alarms, commonly used by specimen anglers across the UK. The case was past to Cambridgeshire Police for prosecution.
The nature reserve which is protected under various wildlife and countryside orders includes some large lakes, none of which are allowed to be used for angling or any other water sport. Intelligence suggested that the largest lake was regularly being fished illegally.
Cambridgeshire Magistrates Court was informed by Cambridgeshire Police who brought the prosecution against Rule, that he was not only fishing illegally he also did not have a valid rod licence.
He admitted knowing that he should not have been there but chose to take the chance and fish it regardless.
Rule who was caught on 26 April 2015 was charged under Schedule 1 Theft Act offence (Fishing without permission-Taking or destroying Fish) and for fishing without a valid rod licence (Section 27 of the Salmon and Freshwater Fisheries Act 1975).
He was fined £170, ordered to pay £20 victim surcharge, costs of £85 prosecution costs, a criminal courts charge of £150.
After the hearing, Environment Agency investigator Rob Boothby said:
This is the first time that such an offence has been successfully prosecuted in Cambridgeshire and Bedfordshire and was brought about by working together with other organisations.

This will no doubt send a strong signal to not only those anglers who choose not to buy a rod licence, but also to those who may be tempted to fish in areas that are out of bounds. This result is indicative of the punishment they can expect when they are caught.
Published 27 October 2015