World news story
NATO visit to Georgia
The visit took stock of Georgia's political and defence reforms as it continues on its path toward NATO membership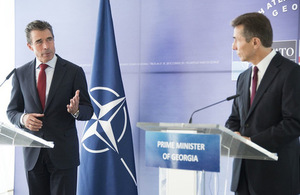 On 26-27 June, NATO's highest decision-making body, the North Atlantic Council (NAC) visited Georgia to take stock of the country's political and defence reforms as it continues on its path toward NATO membership. The two day visit led by NATO Secretary General, Anders Fogh Rasmussen, saw a meeting with the Prime Minister of Georgia, Bidzina Ivanishvili, within the framework of the NATO-Georgia Commission – a forum which was set up in 2008 to enable political consultation and practical cooperation between the Alliance and Georgia. A number of other meetings were also held , including with the President of Georgia, Mikheil Saakashvili, parliamentarians, military personnel and nongovernmental organisations (NGOs).
Speaking at a press conference with Prime Minister Ivanishvili on 26 June, Rasmussen said:
Georgia has already made remarkable reforms in many areas, the priority now is to continue implementing reforms and to demonstrate that democracy is deep-rooted.
Rasmussen reaffirmed NATO's commitment to helping Georgia undertake the necessary reforms required for membership, saying:
We will continue to help Georgia to pursue critical reforms. We look forward to free and fair presidential elections later this year…and we will continue to support the sovereignty and the territorial integrity of Georgia within its internationally recognised borders.
The Secretary General added:
Georgia's full Euro-Atlantic integration is a goal we all share. The decisions taken at the 2008 Summit in Bucharest stand as firm as ever. If and when Georgia meets the necessary requirements, it will find a home in NATO.
Georgia's Presidential Elections will be held in October 2013.
Further information
Full agenda of NAC visit to Georgia available here Timeline of NATO-Georgia relations available here
Published 8 July 2013
Last updated 24 July 2013
+ show all updates
added photo
First published.