World news story
NATO Summit 2018, Brussels
The NATO Summit 2018 will take place on 11-12 July at the NATO Headquarters in Brussels, Belgium.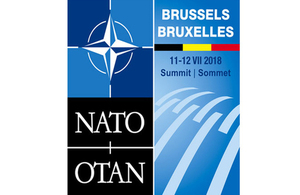 The NATO Summit 2018 is an opportunity for Heads of State and Government of NATO member nations to evaluate and provide strategic direction for Alliance activities.
The Alliance will make decisions to increase security in and around Europe. These decisions include strengthening deterrence and defence, projecting stability and fighting terrorism, stronger cooperation with the European Union, modernising NATO, and fairer burden-sharing. NATO is an Alliance of shared values and transatlantic unity. More on these topics can be found on the NATO website.
Since NATO was founded in 1949, there have been 27 NATO summits. Poland hosted the last summit in Warsaw in 2016. NATO summits are held in a NATO member country and are chaired by the NATO Secretary General.
Read the NATO Summit 2018 agenda and media advisory for more information.
Published 6 July 2018