National award for Sellafield engineer, Adam
A mechanical design engineer from Sellafield Ltd has won a top national award for excelling in his apprenticeship.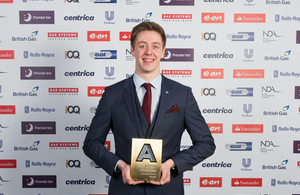 Adam Sharp has beat strong competition from the best apprentices in the country to be named the Advanced Level Apprentice of the Year at the recent National Apprentice Awards, held in London on Friday 20 January.
The 22-year-old moved from Yorkshire to Cumbria 4 years ago to train with Sellafield Ltd. He said:
My apprenticeship has given me the skills I needed to become and engineer, but it has also given me more general life skills.

I moved over 150 miles on my own at the age of 18 so that I could be an apprentice at Sellafield. Council tax, cooking and household bills were all unfamiliar things. I had to grow up quickly, manage bills, budget myself and learn life skills such as cooking. I had to become an adult.
Ken McEwan, Head of Training for Sellafield Ltd said:
Moving across the country on his own in order to carry out his apprenticeship with us, he didn't just have to get to grips with the world of work, he also had to grow up overnight.

Adam's commitment and unquenchable thirst for learning and development have seen him scoop an armful of accolades during his apprenticeship, and now he can add national Advanced Level Apprentice of the Year to his collection.
Adam added:
The apprenticeship programme has given me all of the practical training and skills that I need for my career as well as opportunities that I never dreamed of, like being part of a tall ship crew in a journey across the Irish Sea! A traditional university route into work couldn't have given me the experiences and practical skills that an apprenticeship has.

To receive a national award like this, to have even been shortlisted with the best apprentices in the country, is just the icing on the cake.
The awards, run by the National Apprenticeship Service, are now in their 13th year. They recognise both employers and apprentices from across England that can demonstrate how apprenticeships have made a real difference to their organisation and careers.
The Sellafield nuclear site is home to some of the most complex decommissioning challenges in the world, and with 500 apprentices on its books, is widely known for its commitment to education and training.
Published 23 January 2017