News story
National Apprenticeship Week 2016 - as it happens
A round-up of key events happening during National Apprenticeship Week (14 to 18 March).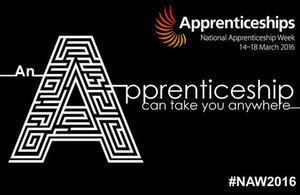 National Apprenticeship Week runs from 14 to 18 March and this year the key themes for National Apprenticeship Week 2016 are: "An apprenticeship can take you anywhere", with a particular focus on higher skills to show how young people, entrepreneurs and businesses can "rise to the top" through traineeships and apprenticeships.
To find out more about National Apprenticeship Week 2016, visit gov.uk/naw2016.
Friday, 18 March
It really is great to see so much activity on social media using #NAW2016 today. Please keep up the momentum and remember to use #NAW2016. There are some great images, videos and blogs. Check out #NAW2016 to see what's happening on twitter.
Lancashire apprentice Ben Finch and construction director Keith Collard of Redrow Homes found out 'how the other half lives' when they swapped jobs for a day for National Apprenticeship Week. Keith, 52, from Chorley, got the chance to get his hands dirty drilling out joists and fitting pipes as a plumber, while Ben, 17, from Wigan, got suited and booted for a day at the office.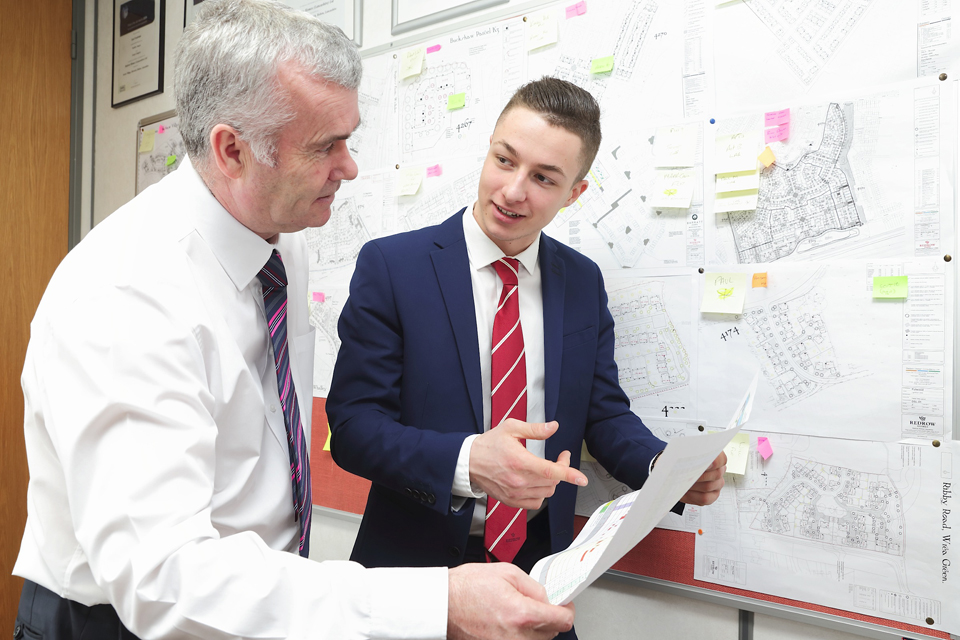 Nick Boles, MP, Minister of State for Skills visited South Devon College where he was interviewed by editorial apprentices Zoe Stevens and Hannah Maltwood. He also met construction and automotive apprentices. The Minister then went on to visit Weymouth College where he attended an apprenticeship fair, meeting and talking to employers from across the area. It was a great opportunity for the students from the college to talk to employers about the apprenticeship opportunities they have on offer.
Last night apprentices at Channel 4 took over during National Apprenticeship Week and ran an inspiring event for anyone looking for a break into media.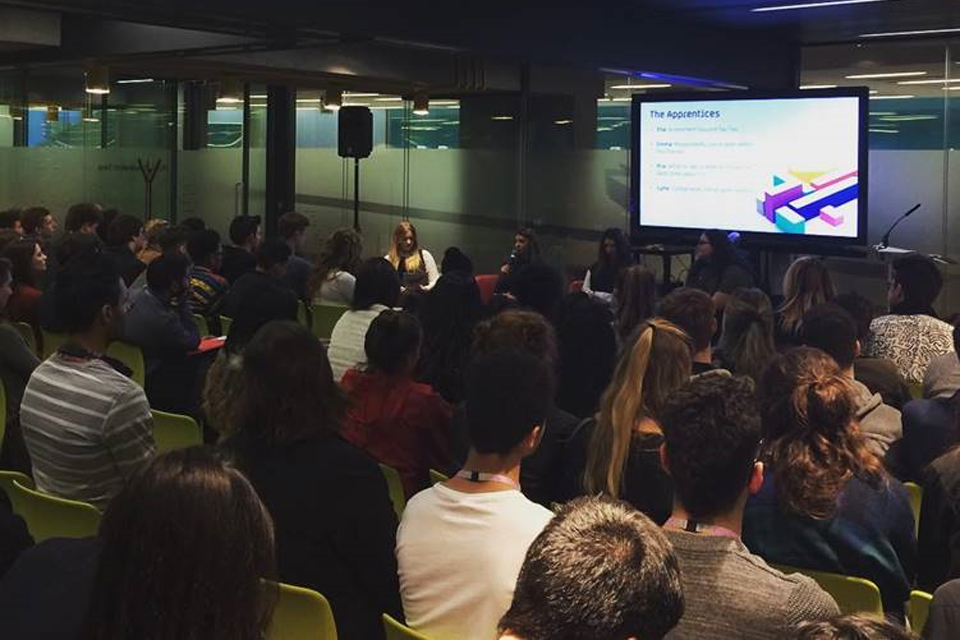 Thursday, 17 March
Nick Boles, MP, Minister of State for Skills gets cooking with apprentices at Rick Stein's Seafood Restaurant in Padstow Cornwall today. He was joined by Scott Mann, MP for North Cornwall. The minister then went on to visit The Eden Project, Cornwall where he toured round the Rain Forest and did some planting with apprentices.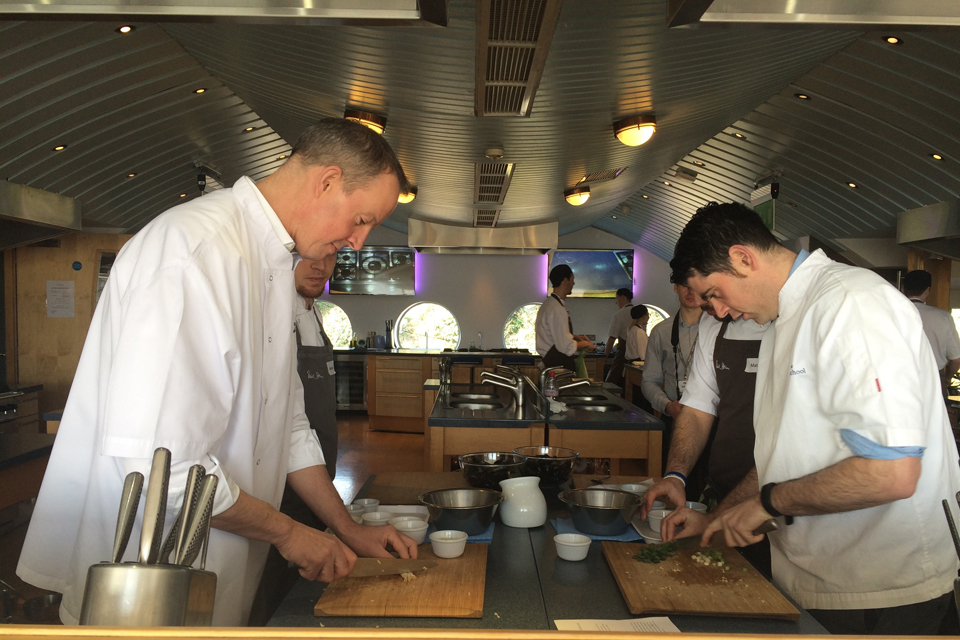 Today saw Redcar and Cleveland Councils Countryside Apprentices and North Yorkshire Moors apprentices working collaboratively on the South Bank of the Tees. The tidy-up operation continues on Friday with a solo mission from the Redcar and Cleveland Borough Council apprentices.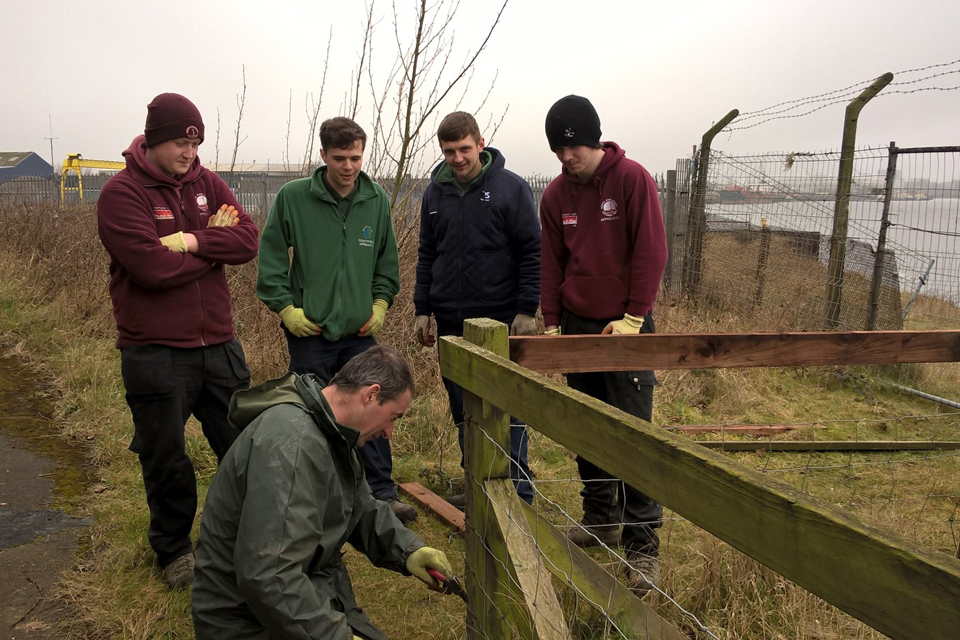 The FE Week Annual Apprenticeship Conference and Exhibition is taking place during National Apprenticeship Week (16 to 18 March 2016) and in partnership with the Department for Business, Innovation and Skills (BIS), the conference and exhibition will support apprenticeship providers, employers and assessment bodies.
Wednesday, 16 March
Tees Valley apprenticeship challenge took place today. The event featuring apprentices from Redcar and Cleveland, Middlesbrough, Stockton, Darlington and Hartlepool, now in its 6th year, battle it out on the banks of the river Tees to win the title of Apprenticeship Champion. After a number of events that included running, raft building, and a sky walk challenge. The winners for 2016 were Darlington with Redcar, with Cleveland coming a close second.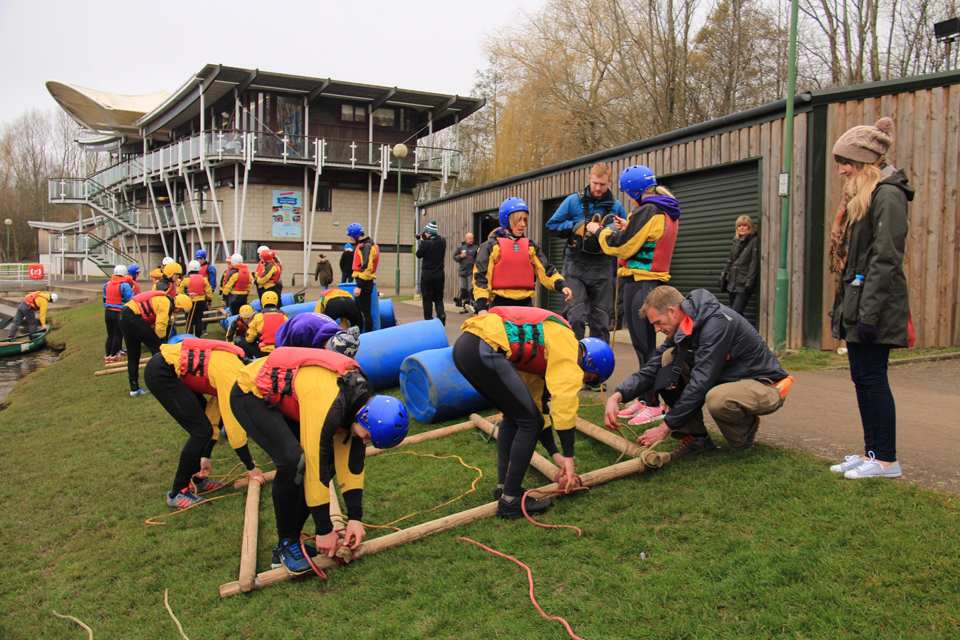 The Novium Museum in Chichester was the venue for an apprenticeship VIP employers' drinks' reception prior to an Apprentice Graduation Ceremony held last night, Tuesday, 15 March, 2016. Up to 150 employers attended the reception as well as the Apprentice Ambassador Network and graduating apprentices. After the drinks reception all the employers and apprentices made their way to Chichester Cathedral for the full graduation ceremony.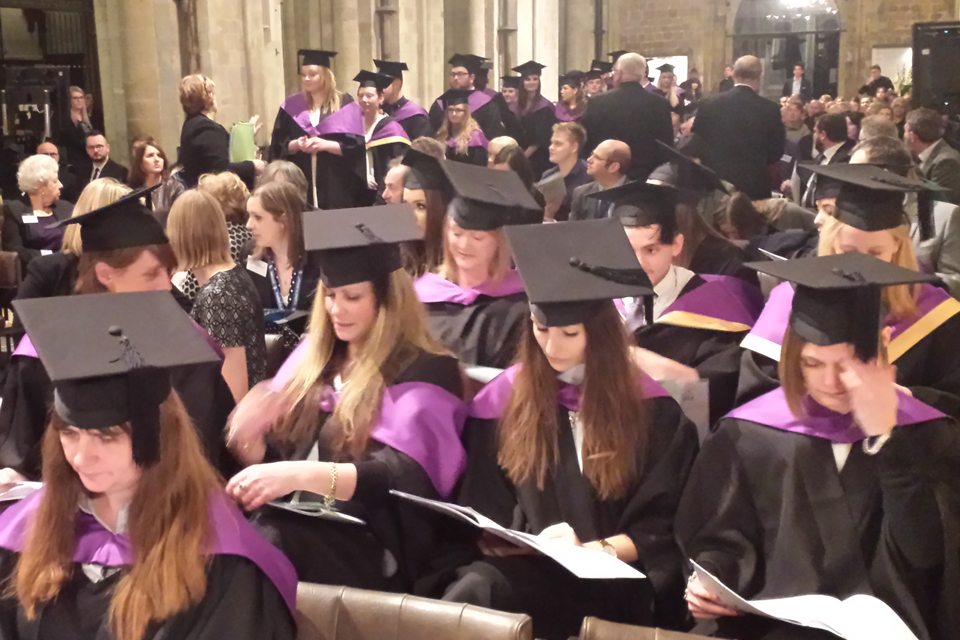 Nadhim Zahawi MP hosted the 'Licence to Skill' event (Bond in Motion) at the London Film Museum yesterday evening. The event was organised in conjunction with the Greater London Authority and Tech City. Over 200 employers from the creative, digital and technical sectors attended the impressive, James Bond themed event.
Tuesday, 15 March
An interactive breakfast event took place at the BT Tower today showcasing stories and achievements of exemplar apprentices, both current and past. The event included an interactive demonstration from BT apprentices who were joined by other employers, offering an opportunity for students, teachers, career advisors and apprentices to network.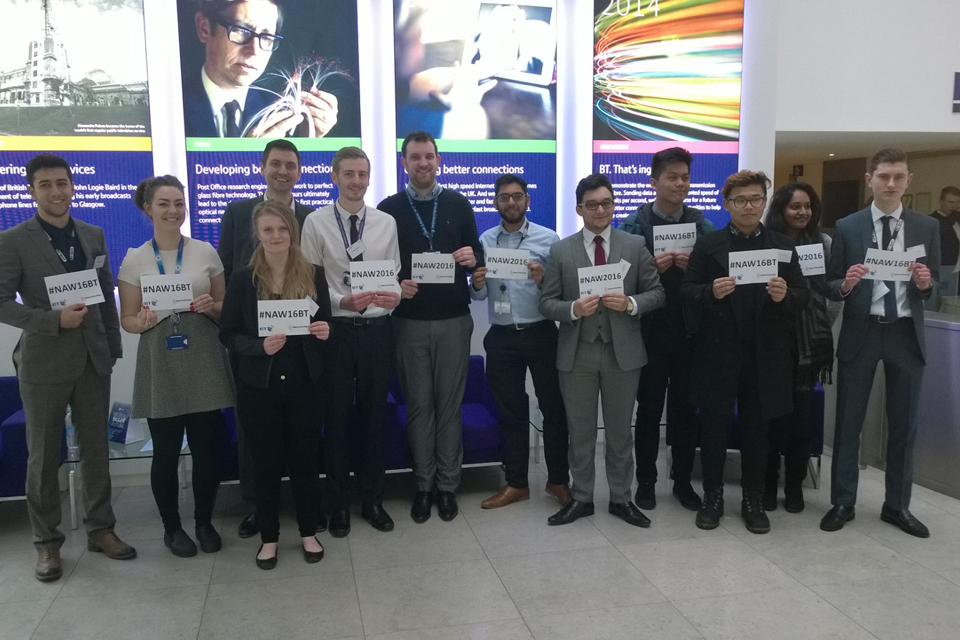 The NW Large Employer Conference took place today at Aintree Racecourse in Liverpool. This one day conference looked at the most important aspects of the evolving apprenticeship landscape, including the recently announced Apprenticeship Levy and Digital Apprenticeship Service; and the introduction of new apprenticeship standards through Trailblazers.
It really is great to see so much activity on social media today. Please keep up the momentum and remember to use #NAW2016 and #RiseToTheTop.
There are some great images, videos and blogs. Check out this blog from Ebony who is an apprentice at Proskills.
Monday, 14 March
National Apprenticeship Week launched today with an event at London's Shard. To mark the start of the week, a number of companies announced major commitments to apprenticeships, including Starbucks, Prezzo, Fortnum and Mason, Deloitte and Greene King.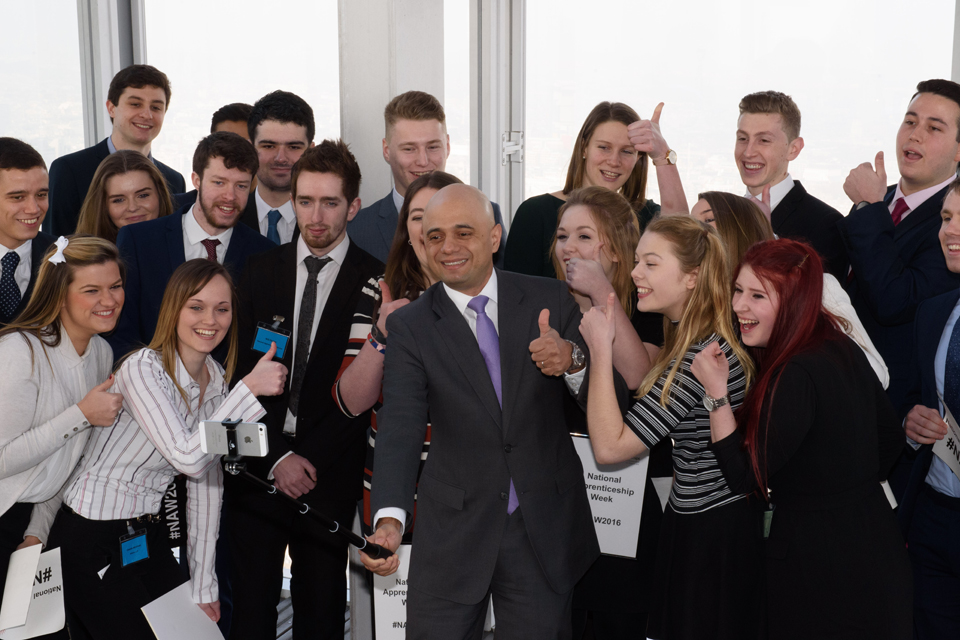 Arena MK in Milton Keynes hosts its first National Apprenticeship Show with over 100 employers and providers showcasing opportunities to thousands of visitors in a lively, interactive, fun and informative setting for National Apprenticeship Week. The event takes place 14 and 15 March 2016.
Tony Allen from the SFA was a judge and presented the awards at the Compass Catering's MasterChef event. Eight apprentices battled it out for the title. The event was held to launch Compass's new apprenticeship programme. Compass Group UK & Ireland has marked the start of National Apprenticeship Week by announcing plans to build the number of Compass apprentices to 1,500 by the end of 2017.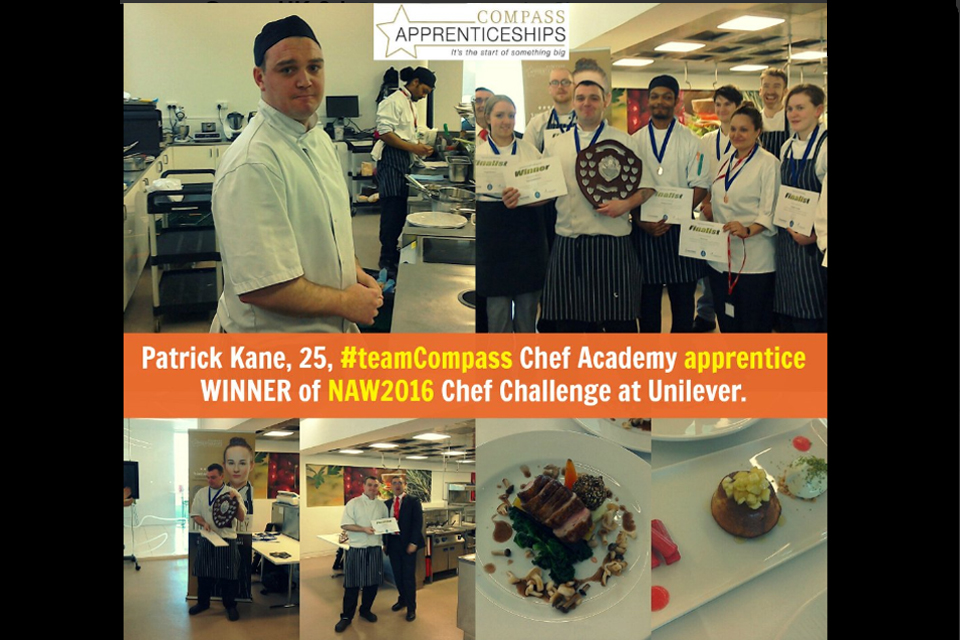 Our hashtag #NAW2016 has been trending on Twitter today with over 13,500 tweets.
Get involved
Full details of the events happening across England can be found on the events map.
Follow @Apprenticeships, @TraineeshipsGov and #NAW2016 for all the latest news, pictures and videos.
Published 15 March 2016
Last updated 18 March 2016
+ show all updates
Updated with events from Friday 18 March 2016.
Updated to include information about the Channel 4 apprenticeship takeover.
Updated with information about a selection of NAW 2016 events from today,Thursday, 17 March.
Updated with information from today's events.
Updated with the 'Licence to Skill' event (Bond in Motion) at the London Film Museum.
First published.