News story
Mundell welcomes business survey
Scottish Chambers of Commerce report highlights growing business confidence.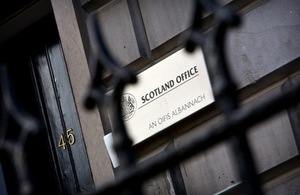 The latest Scottish Chambers of Commerce Business Survey has painted a picture of growing business confidence.
Responding to the report Scotland Office Minister David Mundell said:
With total sales among all major sectors rising, business confidence growing significantly and more and more companies looking to take on new staff, today's Scottish Chambers of Commerce Survey is further evidence that the UK Government's long term economic plan is working.

Going into 2015 Scotland's economy is expected to grow and build on two successive years of economic growth. This shows the conditions are being created for businesses to expand and they are benefiting from the large single domestic market, shared currency and economic stability which comes from being part of the UK.

With jobs being created and wage levels rising above inflation the signs are positive. We will continue with our long term economic plan ensuring we create opportunities for business and for hard working Scots and their families across the country.
Published 15 January 2015