News story
Mundell: The Western Isles are making their mark across the globe
Scottish Secretary David Mundell has praised the global aspirations of Scotland's island communities as he toured businesses across the Western Isles.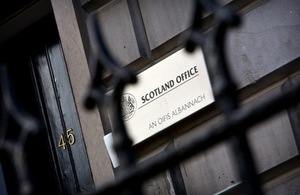 The Minister's day included a visit to Hebridean Seaweed. Having established itself as the UK's largest seaweed processor it is also one of the country's export success stories having sold their produce across Europe, Asia and the United States.
The Secretary of State's visit provided a platform for the company to announce its partnership with the Ladies British Open Golf Championship which began today at Turnberry in Ayrshire.
The Secretary of State said:
I've been extremely impressed by what I have seen today.

Hebridean Seaweed's announcement of a partnership with one of the most prestigious golf tournaments in the world shows how far they have come and highlights the global ambitions of companies from our island communities.
Hebridean Seaweed Managing Director Martin Macleod said:
We're delighted to have shown the Secretary of State for Scotland around our factory today.

Its very important for us as a company to bring to the attention of government the natural resources that we have in the Western Isles and the ability we have as a company to export our products world wide to multiple market sectors. As a company we're always looking to grow so we can continue to innovate and invest.
The Minister also visited the world renowned Harris Tweed Hebrides Mill in Shawbost and the Hebridean Smokehouse in Stornoway where he discussed trade, exports and the recent measures for businesses introduced in the Budget.
Mr Mundell added:
From Harris Tweed to Hebridean Seaweed I've valued the opportunity to visit a number of innovative and established companies in the Western Isles who are making their mark across the globe.

Through the UK's diplomatic and trade network in over 170 countries around the world, we want to encourage more companies to follow in their footsteps and get exporting. With this support the UK Government is right behind the aspirations of our island communities.
Mr Mundell's tour was completed by visiting Stornoway Jobcentre and Lews Castle which received substantial Heritage Lottery Funding towards its refurbishment.
Published 30 July 2015