Press release
Mundell: government listens to concerns of Scotland's rural communities
The UK government is listening and reacting to the concerns of Scotland's rural motorists and hauliers, says David Mundell as he hosted a rural fuel duty roundtable in Glasgow today.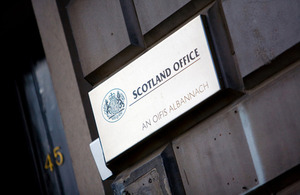 Bringing together MPs representing Scotland's island communities, rural fuel retailers, suppliers, local authorities and the Office of Fair Trading (OFT), the roundtable provided the opportunity to hear the findings from OFT's report on competition in the UK petrol and gas sector.
The roundtable also focused on a review of the fuel duty rebate scheme and allowed MPs, retailers and suppliers to present their views and experience of fuel pricing on the islands.
Speaking after the roundtable, Mr Mundell said:
"The actions the UK government has taken through scrapping the planned fuel duty increase in the recent Autumn Statement and introducing the Rural Duty Rebate Scheme have ensured current petrol pump savings of 13p per litre. Overall this has allowed for savings of at least £100 a year for the typical motorist and at least £3,100 a year for hauliers. It shows we are helping motorists and delivering a fair deal to drivers, especially in our most remote communities.
"We are also fully attuned to the concerns and unique circumstances that Scotland's rural communities have expressed in regards to fuel pricing. Today's roundtable will provide a significant contribution to our ongoing work measuring the impact of the rebate and analysing the need for an extension of the scheme to other remote parts of the UK.
"The report released yesterday by the OFT was particularly relevant to today's roundtable discussions and I trust that the issues raised today by the various parties involved will be considered as the OFT continues to look into the supply of fuel in the Western Isles"
Published 31 January 2013