News story
Multi million pound boost for Scotland's apprentices
Scottish Secretary outlines how Autumn Statement will benefit young people in Scotland.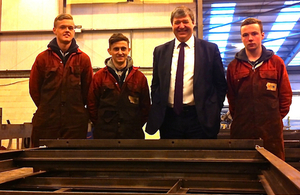 Creating opportunities for young people and apprentices is front and centre of measures introduced in this year's Autumn Statement.
From next April employers in Scotland will no longer have to pay National Insurance Contributions (NICs) on employees under the age of 21. It is estimated this will save businesses around £45m, supporting the jobs of over 138,000 young people.
The Autumn Statement extended this scheme to apply to both existing apprentices as well as employers taking on new apprentices aged under 25.
From April 2016 it will be over £500 a year cheaper to employ an apprentice earning £12,000, and over £1,000 a year cheaper to employ an apprentice earning £16,000.
To mark the move, Scottish Secretary Alistair Carmichael met apprentices at Glasgow-based steel fabrication firm Parkhead Welding.
On his visit the Minister met some of the apprentices the company have employed to work on these projects in the run up the Commonwealth Games through Glasgow City Council's Commonwealth Apprentices scheme.
Mr Carmichael said:
2014 has seen Scottish employment return to levels seen before the financial crash. This year we have had more Scots in work than ever before and thousands of people coming off jobseekers allowance but we know there much more to do especially for young people.

The measures introduced in the Autumn Statement are about building on what this Government has done so far by creating more opportunities and ensuring more young Scots find employment in the large and diverse UK labour market.

From construction to legal services, catering to nursing, apprenticeships are a route employers trust to access the skills they need. For young people including those I've met today at an established family run company it's the ticket to a great job and an exciting future.
Published 11 December 2014