World news story
Mufti Deryan visits the UK: Voice of moderation and tolerance
Mufti Deryan visits the UK, to meet with key British figures to discuss dialogue, coexistence, to promote voices of moderation and tolerance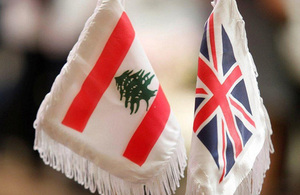 Lebanon's Grand Mufti Sheikh Abdulatif Deryan headed to London on Monday 23 March for a three day official visit at the invitation of the Foreign and Commonwealth Office, leading a delegation from Dar El Fatwa. The delegation included: the Mufti's advisors Dr. Radwan Al Sayyed, Mr Mohammad Sammak, member of the Islamic Shari'a Council Dr. Sheikh Mohammad Anis and the Mufti's media and public relations advisor Khaldoun Kawwas.
This is Mufti Deryan's first visit to the United Kingdom where he will meet with senior British figures including The Prince of Wales, the Archbishop of Canterbury, UK ministers and Islamic and inter-faith leaders.
During his visit, Mufti Deryan will meet key religious, social and political representatives to exchange ideas on coexistence and identity and the role of faith leaders in countering the distortion of religion by extremists, as well as to explore new ways to reach disenchanted and disenfranchised youth to promote moderation and tolerance.
Before leaving for the United Kingdom, Mufti Deryan said:
Our visit to the UK is to reiterate the means of mutual understanding between our cultures and religions and the ability to stand united facing all attempts to sow seeds of strife and hatred within our societies. I carry a message of peace and tolerance, a reflection of the true image of Lebanon and its multi-faith culture between Muslims and Christians. The United Kingdom is known for its dynamism and diversity. We will be meeting with politicians, religious figures from the local community to exchange ideas on topics related to coexistence, identity and forgiveness. Dialogue between human beings is a life necessity and means to know one another and to coexist. Dialogue is one of the main tools through which Muslims engage with the rest of the world.
Minister for the Middle East Tobias Ellwood said:
I am delighted to welcome the Grand Mufti Deryan to the UK. His visit is an important part of our ongoing support to Lebanon's stability, coexistence and religious tolerance. Mufti Deryan is a leading voice of moderation in Lebanon and the region, and I hope his visit will provide an opportunity to exchange views on these issues and community outreach.
Brief biographies of the delegates:
Mufti Abdlelatif Deryan: Elected Grand Mufti of Lebanon on 10 August 2014. He is considered a moderate voice of Islam.

Mohammad Sammak: He is acting as Secretary General of Lebanon's National Committee for Christian-Muslim Dialogue and as Secretary General of the Islamic Spiritual Summit (Sunni-Shiite-Druze-Alawite) in Lebanon.

Mohammed El Arwadi: a member of the Higher Islamic Legal Council in Lebanon and Dar el Fatwa spokesperson. He is a preacher and a teacher in Beirut mosques on secondment from Dar el Fatwa.

Radwan El Sayyed : A professor of Islamic studies at the Lebanese University. He is an author of many books and studies since the 1970's, mostly focusing on the Islamic Cultural History, Ancient and Modern Islamic Fighters as well as Ancient and Modern political Islamic Thought.

Khaldoun Kawass: the Media advisor to the Grand Mufti of Lebanon since 2000 and assumed the position of Public Affairs Officer in 2014.
For your media enquiries: * Michelle Macaron: 70 119098 * Abir Breir: 03 235680 * Khaldoun Kawass: 03 843834 * Email: ukinlebanon1@gmail.com
Published 23 March 2015