News story
More progress on the Green Deal
The Green Deal continues to build momentum ahead of the first deals being available on 28 January 2013, with money for a new communications …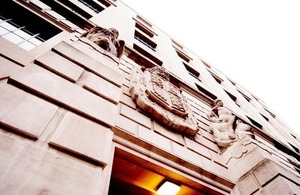 The Green Deal continues to build momentum ahead of the first deals being available on 28 January 2013, with money for a new communications campaign confirmed and a key regulatory milestone reached to bring the Green Deal and the Energy Company Obligation (ECO) into force.
The Department of Energy and Climate Change (DECC) has been granted an exemption to the Government marketing freeze for a campaign that will build understanding and trust of the Green Deal. An initial £2.9 million is available to cover digital and traditional channels.
Further Green Deal progress confirmed today includes:
Plans to develop a national Open Homes network, making it easy for people to find and see homes that have been improved by energy saving retrofits
Opening of the online Green Deal Cashback Portal where Green Deal Providers, charities and Community Interest Companies wishing to take part in the Cashback Scheme must register
Energy and Climate Change Minister Greg Barker said:
"We are making excellent progress on the Green Deal ahead of the key date of 28 January 2013, when the first Green Deals can be signed. We now have funds for a communications campaign that will build further understanding of the Green Deal, helping to create a real buzz.
"We are also supporting development of a national Open Homes network which will show people just how great their home could look and feel with exciting energy efficient upgrades.
"When you add our fantastic cash back into the mix, it's clear that the Green Deal is building momentum and will be a brilliant offer for people."
DECC will invest an initial £2.9 million up to April 2013 to promote the Green Deal, supported by the Energy Saving Advice Service, the new Green Deal pages on gov.uk/greendeal and the Green Deal Cashback Scheme. It has also been confirmed that the Cashback Scheme will be administered by Capita.
---
Notes for editors:
DECC is procuring specialist agencies through the Government Procurement Service to help implement its communications plans.
DECC has published an Invitation to Tender asking suppliers to make proposals for development of a national Open Homes network.
The Green Deal communications campaign will be informed by segmentation research commissioned by DECC to ensure the campaign is targeted at the right people in the right way. Other research assessing the impact of different forms and levels of incentives on consumer interest in taking up energy saving home improvements under the Green Deal has informed the Cashback Scheme. Green Deal research can be found on the Green Deal: Stakeholder engagement web page.
The Green Deal Cashback Portal is open for Green Deal Providers and charities to register to take part in the Cashback Scheme. Capita was appointed in October 2012 to administer the incentive scheme.
The ECO Order was approved by both Houses of Parliament and a revised Green Deal Code of Practice has also been laid in Parliament. The Code will come into force when it is issued by the Secretary of State in January, at which point it will replace the existing version.
 
Published 30 November 2012