News story
More positive economic news
Carmichael welcomes latest Bank of Scotland PMI report.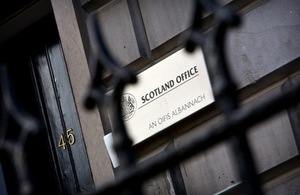 Commenting on the latest Bank of Scotland PMI report for March the Scottish Secretary Alistair Carmichael said:
Today's PMI index provides very encouraging signs for both businesses and individuals in Scotland, as the economic recovery is getting more and more embedded. It is good to see employment rising for 16 straight months, manufacturing orders increasing and cost inflation falling to a 54 month low. It is also promising to see job creation in the manufacturing sector increase to an all-time survey high.

It is clear that this Government's measures to back Scottish businesses are working. As the recent Budget showed we are creating the most competitive business environment in the G7, lowering the tax burden and making it easier for businesses to invest and hire new employees.

Scotland is doing well as part of the UK. Large employers in Scotland from the oil and gas industry to the retail sector are saying that being part of the large and diverse UK Single Market is good for business. The creation of more new jobs shows that being part of the UK is good for hard working Scots and their families.

Contrasted with the Treasury's analysis published last week which showed that in its first year an independent Scotland would have the second highest fiscal deficit of all advanced economies. On the back of more encouraging signs for Scottish businesses, why should we gamble it all on independence when the Scottish Government has no plans on currency, on pensions and on EU membership.
Published 14 April 2014