News story
Moore welcomes rise of foriegn investment in UK
UK bucking the global downward trend for foreign direct investment.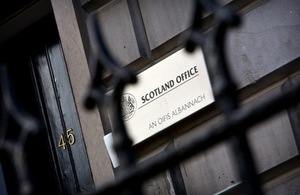 The news the UK is bucking the global downward trend for foreign direct investment (FDI) has been welcomed as an endorsement of the UK's attractiveness as a single market and global recognition of its status as a place to do business, the Secretary of State for Scotland Michael Moore said today.
Commenting on the launch of the World Investment Report for 2013 at United Nations Conference on Trade and Development, the Minister said Scotland would continue to benefit from being part of the UK as investors continued to choose the UK as a preferred location.
The report shows an overall decline in global FDI by 18% to US$ 1.35 trillion, but shows an encouraging level of investment in the UK where FDI inflows rose by 22% to US$62 billion. The UK is 6th top host of FDI below the US, China and Brazil but above Australia, Russia, Canada and India.
A recent Ernst & Young UK Attractiveness Survey showed Scotland was one of the top locations for FDI within the UK in 2012, with the number of projects reaching a 15-year high.
Michael Moore said the rest of the world looked at the UK as a whole when it came to making investment choices and considered the ease of doing business through a single, uniform regulatory regime as a significant element in decision-making.
He said:
"Scotland is doing extremely well in attracting foreign investment and that is to be welcomed, as is today's news that the UK is outperforming the downward global trend with a 22% rise in FDI.
"Success in attracting foreign investors means more opportunity for people here, both I terms of jobs but also in growing the economy and diversifying our business base. The integral nature of the UK means that no matter where investors choose to base themselves, they have access to the whole UK market with the same regulation in place in Wick as it is in Weymouth. That, coupled with the UK as a gateway to the European market, is an extremely attractive proposition and a real fact in the growth of inward investment to the UK. Scotland benefits from that effect.
"In addition, we have the considerable efforts of UKTI and the diplomatic and embassy network working for the whole of the UK in markets around the world."
Note to editors
The World Investment Report can be viewed here
Published 28 June 2013