Press release
Moore welcomes news of £30m BP contract for Babcock Rosyth
Michael Moore welcomes announcement that Babcock have won a major subsea contract safeguarding jobs.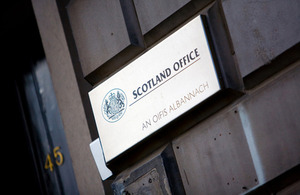 Commenting on today's announcement that Babcock Rosyth has won a major BP subsea contract to build structures as part of the company's project west of Shetland, the Secretary of State for Scotland Michael Moore said:
"Today's news is a welcome addition to Babcock's order book and shows the range of capability and experience at Rosyth continues to allow the company to adapt and win work across different sectors.
"The £30 million contract will safeguard around 100 jobs which is good news for the community and the families whose livelihoods depend on Babcock's success.
"The Queen Elizabeth Class carrier contract is seeing the skills at Rosyth protected and developed. Helping manufacture solutions to the challenges faced by the oil and gas sector will provide plenty of opportunity for the workforce in the future."
Published 14 January 2013