News story
Moore welcomes latest addition to Scottish devolution
Land and Building Transactions Tax (Scotland) Bill replaces Stamp Duty Land Tax.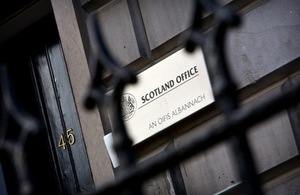 The transfer of more powers to the Scottish Parliament this week is a "huge and historic step for Scotland and devolution", the Secretary of State for Scotland said today.
A vote at Holyrood tonight approved legislation to introduce the Land and Building Transactions Tax (Scotland) Bill, which replaces the current Stamp Duty Land Tax.
It is one of the new powers coming to Scotland through the Scotland Act 2012, which represents the biggest transfer of financial power to Edinburgh in 300 years. The Act was taken through the UK Parliament by Michael Moore and approved by both Westminster and Holyrood last year.
The new tax will apply from April 2015 and allow the Scottish Parliament to set up a new system and rate of tax on people purchasing property in Scotland.
The Secretary of State said:
"This week marks another significant strengthening of powers as the Scotland Act continues to add to the huge success of devolution.
"The new powers coming to the Scottish Parliament will see Scotland benefit from the best of both worlds. They combine the flexibility to address issues in a Scottish context with the security of the broader UK framework. The higher level of accountability it brings to tax and spending by the Scottish Parliament is also welcome.
"The OBR estimates the measures will enable the Scottish Government to raise between £5 and £6 billion of its budget, in addition to the £4 billion it raises in council tax. These powers have been built on evidence but also on cross-party consensus and they are good for Scotland. The stamp duty replacement will add to the income tax-varying power, landfill tax and borrowing powers also being devolved by the Scotland Act.
"Today's vote marks a historic step for Scotland and devolution."
Published 25 June 2013