News story
Moore welcomes Common Agricultural Policy breakthrough
UK Government secures significant gains for Scotland.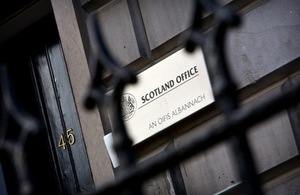 Secretary of State for Scotland Michael Moore today welcomed the conclusion of negotiations at the EU Agriculture Council in Luxembourg, with a deal on a revised Presidency mandate finally struck after midnight last night.
Moore said: "This is a major breakthrough in a long-running, difficult process. Although the final deal is yet to be struck, this mandate represents a huge step forward, offering greater clarity and certainty to Scottish farmers."
"The UK Government has , including the clear statement we needed from the European Commission on regionalisation of the CAP. This gives farmers in Scotland reassurance that the Scottish Government and Scottish Parliament have the freedom to deliver a CAP tailored to their needs and circumstances.
"Through listening carefully to Scottish farmers, Owen Paterson and DEFRA Ministers also secured flexibility for Scotland on Greening of direct payments and on the transition from historic to area-based payments. This transition will remain a big challenge for Scotland and the Environment Secretary has offered assistance from DEFRA to the Scottish Government to help manage the transition.
"A concerted push from the UK Government achieved a big win for Scotland by securing flexibility to use the national reserve for new entrants. Getting new farmers into the system is a big priority for Scotland - this will enable the reserve to be used to distribute money fairly between existing farmers and new entrants in the future.
"This positive outcome demonstrates the UK Government's firm commitment to fight for Scottish interests in the EU. Together as a unified force we have greater influence in tough pan-European negotiations. I hope a final deal will be done today in Brussels."
Published 26 June 2013