News story
Moore – North Lanarkshire helping UK succeed in global race
Michael Moore praises the workforce in North Lanarkshire on a visit to one of their major employers.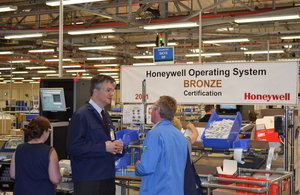 The labour force in North Lanarkshire is playing a crucial role in fulfilling the ambitions of a major global company, the Secretary of State for Scotland has said today as he visited Honeywell's site in Motherwell today.
Diversified technology and manufacturing company Honeywell have had a presence in Scotland since the 1950s through their Newhouse Campus. Today they employ any one time between 700 and 800 staff, spread over 6 independent Honeywell companies manufacturing energy saving sensors and controls for Honeywell's European client base.
Michael Moore said:
"I was very pleased to visit Honeywell's Newhouse Campus. As a Government we are taking the decisions needed to help the UK thrive in the global race and from what I've seen both today and during my recent visit to Honeywell's site in Washington DC it is clear that the resources and labour force of North Lanarkshire are playing a key role in fulfilling Honeywell's global ambition."
The Honeywell site director Stephen Fowler said:
"We are thrilled to have Mr Moore visit our site today, and meet some of the very talented colleagues in Honeywell. A key initiative for Honeywell is energy efficiency and today we have taken the opportunity to show Mr Moore some of the exciting products we manufacture on-site.
"Honeywell are practising what they preach, using energy demand measures in their own facilities and have reduced their energy consumption by almost a quarter in the last 5 years, while increasing productivity. Newhouse and the surrounding area has always been for us a great talent pool, and the knowledge we are creating at this location is benefiting businesses and consumers across the globe."
Published 7 March 2013