News story
Moore - Large UK market is a key benefit for Scotland
Scottish Secretary Michael Moore visited Scottish companies making the most of the opportunities offered by the UK's large domestic market.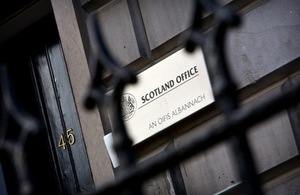 The UK Government will begin setting out its detailed case on Scotland's position in the United Kingdom next Monday (11 February), the Scottish Secretary Michael Moore announced as he visited Scottish companies making the most of the opportunities on offer from the UK's large domestic market.
Michael Moore said the independence debate was entering a new phase where people wanted to hear more of the facts and less of the process. He added the UK Government would set out a thorough analysis of the ways in which people and companies in Scotland benefit from Scotland's place in the UK.
One of the companies the Minister visited was W H Malcolm Ltd in Grangemouth. Starting as family business in Renfrewshire, it is now one of the UK's leading providers of logistics, construction and maintenance services through 22 locations nationwide, employing over 2,000 people. Operating as the Malcolm Group, the company maintains its family roots today through its CEO Andrew Malcolm and Director Walter Malcolm.
Michael Moore said:
"The companies I visited today highlight the significant benefits that are offered within the UK for Scottish companies to expand and grow. The advantages of a large single market with no trade barriers or restrictions are very clear.
"Next Monday we will begin setting out the considerable benefits that Scotland enjoys from being part of the UK family and the benefits we bring to the UK.
"We are entering a new phase of the independence debate. People want to hear more about the facts and less about the process.
"The advantages of a single market and the fact two-thirds of Scottish exports go to the rest of the UK are just two examples of the strengths of remaining in the UK."
Published 8 February 2013