News story
Moore highlights Heritage Lottery Fund role in Scotland
The Scottish Secretary has visited a newly restored museum which has received backing from the largest funder of UK heritage projects.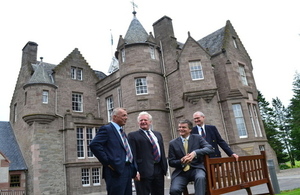 A Perth museum which has recently undergone a major restoration was the venue for a visit today from the Secretary of State for Scotland.
The Black Watch Museum at Balhousie Castle in Perth received a Heritage Lottery Fund (HLF) grant approval of over £750,000 in March 2012 and last month officially re-opened to the public.
The funding was a significant factor in allowing for an extensive restoration of the existing castle encompassing a completely redeveloped Museum, the building of a new extension that houses an education room, significant storage space for the collection and archive along with a workspace for volunteers and a new restaurant and shop.
The Trustees of the castle now plan to run annual schedule of events appealing to all ages and will extend their existing programme of educational outreach to schools across Tayside by introducing internal initiatives.
The Secretary of State said:
The ideas and inspiration that grants from the Heritage Lottery Fund can provide has been well illustrated by my visit to the Black Watch Museum. It was a great pleasure to visit the Museum and to hear more about their exciting plans for the future.

From Abbotsford in Melrose to restoring townscapes in Kirkwall and Stornoway, HLF plays a vital role in ensuring that vital pieces of Scotland's history can be celebrated by generations to come.
The Secretary of State for Scotland also welcomed news that the Heritage Lottery Fund will provide £25,500 to Historic Scotland for the National Conservation Centre in Stirling together with initial backing of a further £3.5m towards the project.
Mr Moore said:
Today's announcement is good news for Stirling and further highlights the excellent work undertaken by Heritage Lottery Fund in Scotland.
HLF is non-departmental public body accountable to the Department of Culture, Media and Sport. It has provided almost £600m to over 3,300 projects in Scotland since its creation 20 years ago. Most recently this has included £2.8m towards a new museum and art gallery in Dunfermline and almost £5m towards the restoration of Abbotsford in Melrose the former home of author Sir Walter Scott which opened its doors to the public earlier this month.
Published 1 August 2013