News story
Moore drives forward case for creating apprentice opportunities on rural company visit
Providing young people with opportunities will boost Scotland's rural economy, Michael Moore has said on a visit to Perthshire.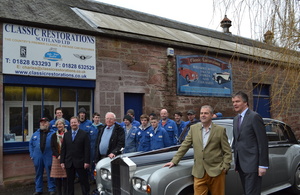 On the first stop in a two day tour of rural Scotland, the Secretary of State for Scotland visited Classic Restorations a specialist mechanical company providing a full restoration service for classic cars which is reaping the rewards of employing apprentices.
The company was started in 1982 as a hobby by owner and current managing director Charles Palmer. After gradually expanding they became an incorporated company in 1997 and now they employ 20 people out of their factory in the village of Alyth in Perthshire.
A key factor in Classic Restoration's success has been their apprentice programme. During their expansion they quickly realised that there was a limited pool of tradesman available to the work required, to solve this skills gap Classic Restorations enlisted apprentices to be trained in house which has kept the skills needed alive within the company. This practice has been carried out for over 20 years and today their youngest apprentice is 16 years old.
On his visit Mr Moore was able to see first-hand the work their apprentices - a number of whom are in training for their City and Guilds certificates - are currently undertaking.
The Secretary of State said:
"Classic Restorations is an outstanding example of a company which has throughout its history appreciated the benefits of hiring, training and retaining apprentices. This is helping to keep valuable traditional skills alive in Scotland and within Perthshire retaining young people within the local rural economy.
"The UK Government is committed to finding ways to remove barriers facing young people looking for work and providing them with the same opportunities that apprentices have been given here at Classic Restorations, this will ensure that their ability and potential is fully realised. The Work Programme and the Youth Contract are creating work placements for young people across Scotland and combined with the work being undertaken with the Scottish Government, Local Authorities, employment and skills organisations as part of the Scottish Employability Forum we are ensuring that all of Scotland's employability programmes are mutually beneficial. This will ultimately help young people in Scotland with more job opportunities, work experience and the chance to fulfil their potential."
During the visit the Secretary of State was also able to meet Raymond Gray from the Cognoscenti, a group formed by classic car enthusiasts aimed at showcasing Scotland through the medium of classic cars at organised events and tours. Classic Restorations will provide mechanical support for the fully diary of events planned by the Cognoscenti this year
Mr Moore added:
"Scotland's scenery and spectacular routes are accessible to everyone. The combination of the work undertaken by Classic Restorations and the Cognoscenti are helping to ensure that these treasured classic cars remain on Scotland's roads."
Raymond Gray, Founding Partner, The Cognoscenti said:
'I'm delighted to have met Michael and had the opportunity to tell him about our drive to showcase the very best of Scotland through the medium of classic cars. I warmly welcome his endorsement and support for our venture'.
Published 8 April 2013