Moore: Autumn Statement Delivers For Scotland
The UK Government's action to protect the economy and growth will today help a range of people and sectors across Scotland, including …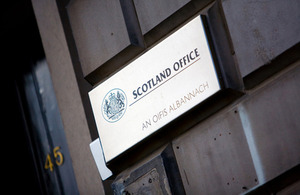 The UK Government's action to protect the economy and growth will today help a range of people and sectors across Scotland, including a multi-million pound boost for capital spending.
The Secretary of State for Scotland Michael Moore said:
"Against a difficult economic backdrop, we are taking the targeted measures we can afford to get Scotland's economy moving.
"There is a good deal of specific, positive news for Scotland.
"The Scottish Government will receive more than £300 million of new money - in addition to the £1 billion it has already received since the Spending Review - all of which it can invest in shovel-ready projects.
"Our 2.7 million vehicle owners - particularly those in rural Scotland - will benefit from the decision to cancel the January fuel duty rise.
"And an additional 21,000 low income Scots will be taken out of tax altogether next April, bringing the number in Scotland to 183,000 in total, with around two million more receiving an income tax cut.  Fairer taxes are essential at this time of economic strain, and that is what we are delivering."
"Business will also benefit, whether from the Annual Investment Allowance increase, a reduction in corporation tax or new allowances for the North Sea oil and gas fields. The news that Perth and Aberdeen are to benefit from UK Government funding for broadband will also help prepare Scotland for the challenges ahead.
"The Autumn Statement makes clear we are on the right track in terms of borrowing and deficit reduction, despite the troubles on our doorstep in the eurozone. The UK Government will continue to take the right decision for our economy, allowing Scotland and the rest of the UK to compete and grow. "
AUTUMN STATEMENT : SCOTLAND FIGURES
Extra Funding for the Scottish Government
As a result of decisions in the 2012 Autumn Statement the overall spending power of the Scottish Government will increase by £331m over the Spending Period. 
This brings the total amount of additional funding given to the Scottish Government during the Spending Review to nearly £1.5bn  (£1,473m)
The Scottish Government will receive an extra £394m of capital funding over the rest of the Spending Review period (up to 2015).
Personal Allowance
Raising the Personal Allowance to £9440 will help 2.2m people in Scotland and take a further 21,000 low paid Scots (and now 183,000 in total) out of income tax entirely from next April.
Fuel Duty
Cancelling the fuel duty rise planned for January 2013 will help the owners of the 2.7m motor vehicles in Scotland, saving the typical driver £40 a year and a haulier £1,200 a year.
Broadband : super-connected cities
Perth and Aberdeen will benefit from a share of £50m Government funding to deliver ultra-fast fixed broadband access and large areas of public wireless connectivity. (12 UK cities in total)
State Pension
1m Scottish pensioners will benefit from the £2.70 a week increase from April 2013
Help for Scottish SMEs
Scotland's 319,000 Small and Medium Enterprises will benefit from a significant increase in the Annual Investment Allowance from £25,000 to £250,000 for two years covering investment in qualifying plant and machinery from January 2013.
Corporation Tax cut
Scottish businesses will benefit from the further one per cent cut in Corporation Tax from 2014 to 21%.
You can find out more about the Autumn Statement here (links to HMT website)
Published 5 December 2012