News story
Moore aids Inverclyde Globetrotters on their lunar trek
The Secretary of State for Scotland visited a group in Inverclyde set up to help those recovering from heart disease and strokes.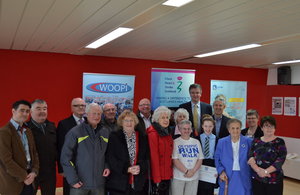 The Secretary of State for Scotland paid tribute to the inspirational efforts of volunteers as he visited the Inverclyde Globetrotters in Inverclyde.
The Inverclyde Globetrotters were formed in early 2008 out of a weekly gym based rehabilitation class. From their classes, steps from pedometers were recorded along with the distances walked, cycled and rowed during the class and each week's progress setting targets plotted on a map. This allowed them to undertake journeys including the equivalent of walking Route 66, to Beijing for the 2008 Olympics and to all of Europe's capital cities
It is hoped setting such a challenging, long term goals will offer a sense of group achievement to those recovering from serious heart conditions.
Today the Globetrotters have inspired dozen of groups affiliated to Chest, Heart and Stroke Scotland to join them to their latest expedition as they embark on a "lunar trek" to the moon.
On the final day in a series of visits across Scotland taking in Dundee, Aberdeenshire, Perthshire, Argyll & Bute, Inverclyde and Glasgow, the Secretary of State visited the Waterfront Centre, Greenock to meet with members of the Inverclyde Globetrotters, Group organiser Duncan Galbraith, Neil McFadden, MBE Chair of the Inverclyde Elderly Forum as well as representatives from Chest, Heart & Stroke Scotland and the Wider Opportunities for Older People in Inverclyde.
As part of the visit, Mr Moore was presented with the title of Honorary Inverclyde Globetrotter to mark himself and members of the Scotland Office staff signing up to donate miles towards the Globetrotters lunar trek.
The Secretary of State said:
"I was delighted to visit Greenock and meet with Duncan and members of the Inverclyde Globetrotters.
"I hope the efforts of myself and staff members from my office will go some way to help the Globetrotters return from their latest expedition.
"The spread of organisations and groups that have joined us today together with the messages of support and donation of miles the Globetrotters have received from far and wide is testament to the inspirational effect they have had on the wider community."
Group organiser Duncan Galbraith said:
"We're thrilled that the Secretary of State for Scotland and his Scotland Office team are going to help the Inverclyde Globetrotters walk to the moon and back.
"Sixteen months on from the launch of our Lunar Trek, people from all over Scotland have joined us to walk 395,000 miles, by the end of the year we're hoping to walk the 477,000 mile round trip and land softly back in Inverclyde"
Published 22 February 2013