MOD awards contracts for large-scale UK construction projects
DIO has appointed 5 companies for the design and build of up to £400 million worth of construction projects across the UK defence estate.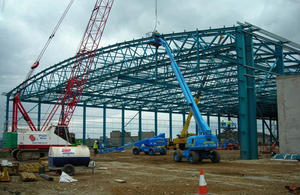 Representatives of the successful companies attended a special ceremony at the Defence Infrastructure Organisation (DIO) in the West Midlands on 13 December 2013 to sign 'partnering charters', which set out a number of principles and behaviours that are intended to promote effective joint working.
Contracts have been awarded for the National Capital Works Framework – delivering projects each valued at up to £50 million – to:
Balfour Beatty Group Ltd
Carillion UK Construction
Kier Graham Defence Limited
Miller Construction (UK) Ltd
Wates Construction Ltd
This is the second Next Generation Estate Contracts (NGEC) Capital Works Framework to be awarded during the last month. It follows the signing of the East Midlands and Eastern England Regional Framework contract in November 2013.
Capital Works Frameworks provide a means for DIO to let contracts for construction projects without going to full-scale tender. They allow for mini-competitions between shortlisted bidders for individual projects.
In total there will be 7 Capital Works Frameworks, which comprise of 6 regional and 1 national framework. The national framework will operate alongside the regional frameworks and can be utilised at any defence site across the UK.
It allows for the delivery of a diverse range of high-value, technically-complex construction projects, as well as for projects that need to be delivered across regional boundaries.
Each individual project will be valued up to £50 million. The total value of the framework is up to £400 million over an initial 4-year period, with the option to extend by up to a further 3 years.
For projects above £50 million other procurement options will be considered, including stand-alone contracts or private finance initiatives.
When project requirements are identified as suitable for delivery through the framework, the 5 companies will be invited to engage in 'mini-competitions', tendering for design and build solutions.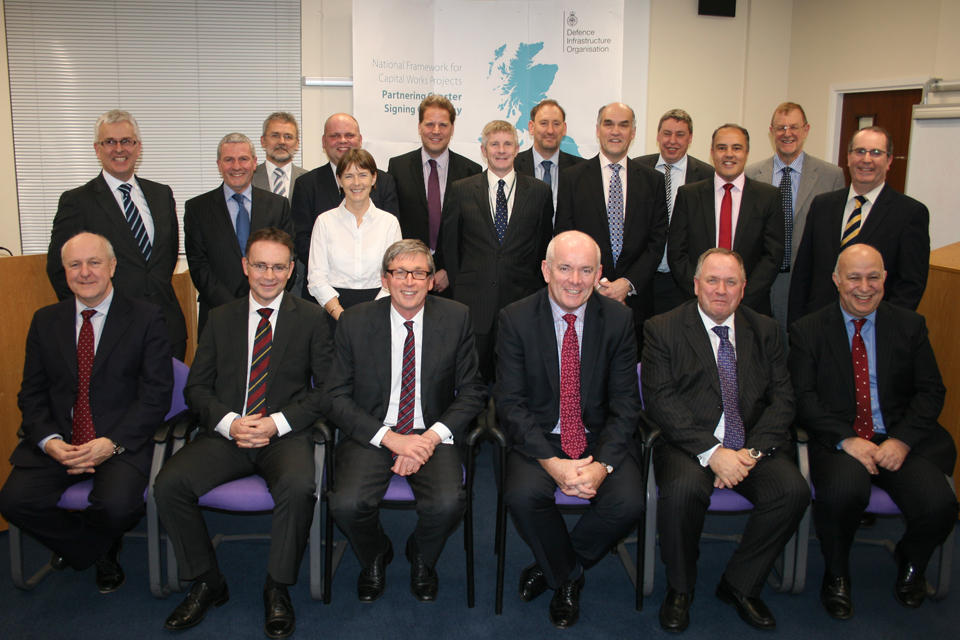 Andrew Manley, DIO Chief Executive, said:
For the Armed Forces to live, work and train effectively on the military estate, the DIO is putting in place an agile new suite of contracts under NGEC.

The Capital Works Frameworks provide for ever-improving value for money, competitive tension, and the ability to meet the demand of future requirements across the UK defence estate.

Defence transformation under the strategic defence review is driving major change and modernisation and we will be looking to our industry partners for their support by sharing their expertise with DIO service delivery staff as the programme moves forward and project requirements are identified.
Matt Foley, the Head of NGEC, said:
I am pleased to welcome the successful contractors to the national framework. The NGEC team is confident that the companies selected will meet the high standards required on the defence estate.

Each of the bidders faced a rigorous evaluation process and clearly demonstrated that they are capable of delivering a complex and diverse number of high-value construction projects which are fit for the defence front line.
In addition to supporting other requirements, the frameworks will be used to procure a significant proportion of work in support of military rebasing up to 2020.
The frameworks will introduce the use of building information modelling, which provides a shared source of information about individual facilities to assist with the design, construction and management of buildings throughout their life-cycle.
The NEC3 form of contract as cited in the Government Construction Strategy will be introduced for the first time through frameworks and allows for the implementation of project management principles and practices.
Capital Works Frameworks will also champion prompt payment principles through the use of project bank accounts and other initiatives, as well as incorporate effective performance management, continuous improvement and benchmarking arrangements.
Published 18 December 2013