World news story
Ministers welcome OECD Secretary General to UK
UK Ministers met with OECD Secretary General Angel Gurria accompanied by British Ambassador Nick Bridge for a number of key meetings.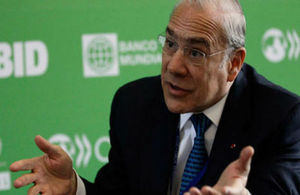 On 31 October 2013 the OECD Secretary General Angel Gurria went to the UK, accompanied by British Ambassador to the OECD Nick Bridge, for a series of high-level meetings, including with Foreign Secretary William Hague, Energy and Climate Change Secretary Ed Davey, Health Secretary Jeremy Hunt and the Governor of the Bank of England Mark Carney. The Secretary-General's visit was at the invitation of the Prime Minister, and included attendance at the summit on the Open Government Partnership where the Secretary-General spoke about the OECD's work on transparency, good governance and open data, including partnership with various countries in the MENA region and beyond.
Mr Gurria and the Foreign Secretary took the opportunity to talk about the OECD's global outreach and its standard-setting and rule-making in the context of the UK Government's work on a Rules-Based International Economic System (Rubies). Mr Hague praised recent OECD work on education and skills, governance, anti-corruption and energy/climate change; and its success in engaging Latin America, South East Asia, the Middle East and North Africa (MENA) in partnerships on structural reform; as well as specific progress on Colombian, Latvia, Costa Rican and Lithuanian accession.
The Secretary General gave an important speech at the London School of Economics just a couple of weeks earlier, where he outlined the key policy challenges including as we aim for zero emissions in the second half of the century.
A meeting with the Health Secretary provided a welcome chance to discuss the upcoming G8 Dementia Summit being hosted in the UK. The Summit will bring countries together to discuss a much more collaborative international approach to social care, innovation and data on dementia. The OECD is playing a key role, designing and delivering follow up workshops, and providing analysis on the scale of the dementia and ageing challenges.
The UK Delegation was delighted to work with the Secretariat on this visit. Such programmes are vital for raising awareness with senior British Ministers and others of the broad range of OECD work that is making a difference right across UK policy making.
For more information on the visit or any of the issues raised, visit the OECD [website] (http://www.oecd.org/).
Published 5 November 2013