World news story
Minister Tobias Ellwood meets Egyptian Prime Minister Ibrahim Mehleb
British Minister Tobias Ellwood meets Egyptian Prime Minister Ibrahim Mehleb and highlights support for economic reform benefiting all Egyptians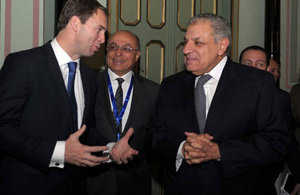 Today, British Minister for the Middle East and North Africa Tobias Ellwood has met Egyptian Prime Minister Ibrahim Mehleb in the margins of a business and investment conference hosted in central Cairo.
Mr Ellwood highlighted that Britain is the largest foreign direct investor in Egypt. He told Prime Minister Mehleb that Britain wants to increase trade and investment in Egypt and supports Egypt's preparations for a successful investment conference in March.
During the conference, Mr Ellwood also encouraged the Egyptian government to undertake economic reforms in order to make Egypt a more attractive environment for business and investment and to make sure that economic growth benefits all Egyptians.
Mr Ellwood said:
Britain wants to see a successful Egypt. Through investment, trade, and technical support, we are helping Egypt to build a strong and dynamic economy that creates jobs and opportunities for all Egyptians.
Published 13 January 2015